NEWS & INFORMATION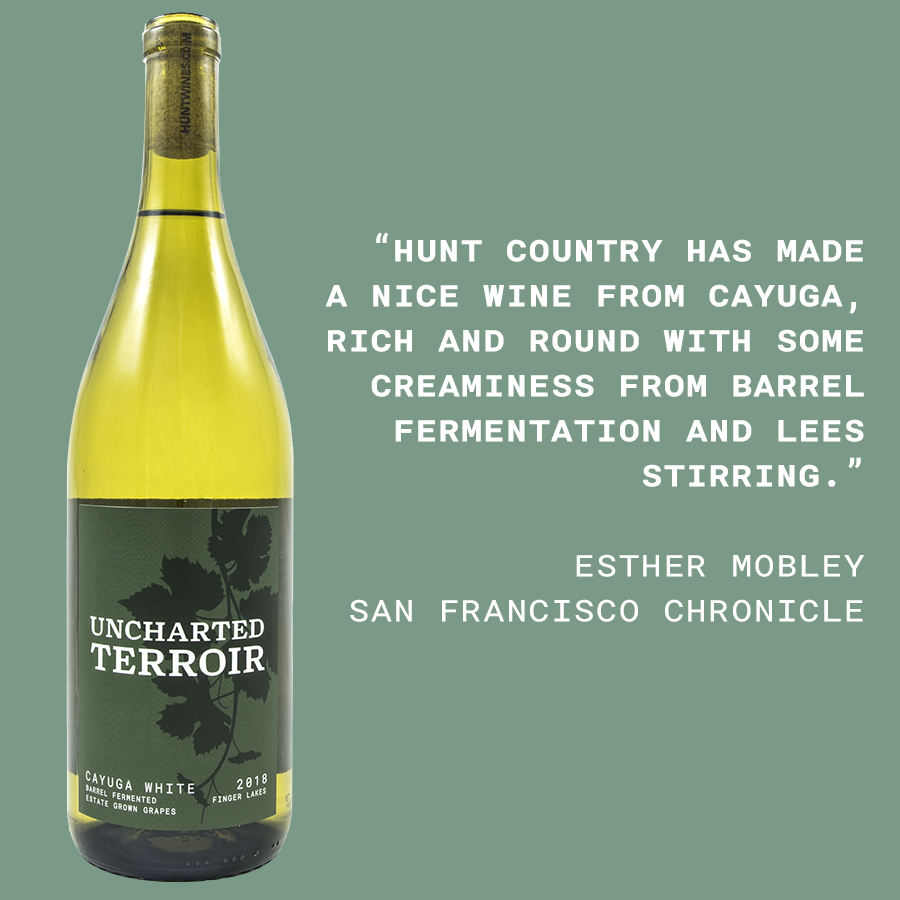 Our 2018 Uncharted Terroir Cayuga White received a wonderful little review from Esther Mobley, the wine critic for the San Francisco Chronicle. It was part of a bigger piece she wrote about hybrid wines that she really enjoys – and why hybrid grapes are becoming more and more important.

"What makes the hybrid conversation urgent is climate change. As temperatures warm and weather patterns become more erratic, vinifera may not be able to thrive forever in all of the places where it's currently grown. Some scientific predictions, in fact, suggest if current trends persist, half of the world's wine regions will become inhospitable to vinifera. Sure, the European grapes — all our Cabernet Sauvignons and Pinot Noirs and Syrahs — are working great in California now. But they may not always...

"Most of the efforts with hybrid winemaking in the U.S., however, are happening outside of California, in areas where extreme weather makes it difficult to grow vinifera successfully... Under its new Uncharted Terroir label, Hunt Country Vineyards in upstate New York has made a nice wine from Cayuga, rich and round with some creaminess from barrel fermentation and lees stirring."

Read the full story when you have a few minutes.

Terroir is often thought of as a snooty wine term. But it's actually a really beautiful concept – especially as it's described by Suzanne Hunt in celebration of Earth Day.
At its best, winemaking is about capturing the unique essence of your place and all of your practices – the terroir – in every bottle of wine. So the fact that we put so much emphasis on stewardship of the land and being as sustainable as possible here at Hunt Country makes perfect sense.
Because our stewardship – all of our decisions about how to take care of the terroir – is critical to the essence of our wine.
To make great wine, you have to have clean air, clean water and healthy soil.
Watch Caring for the Land, a short video that tells our story of sustainability and stewardship.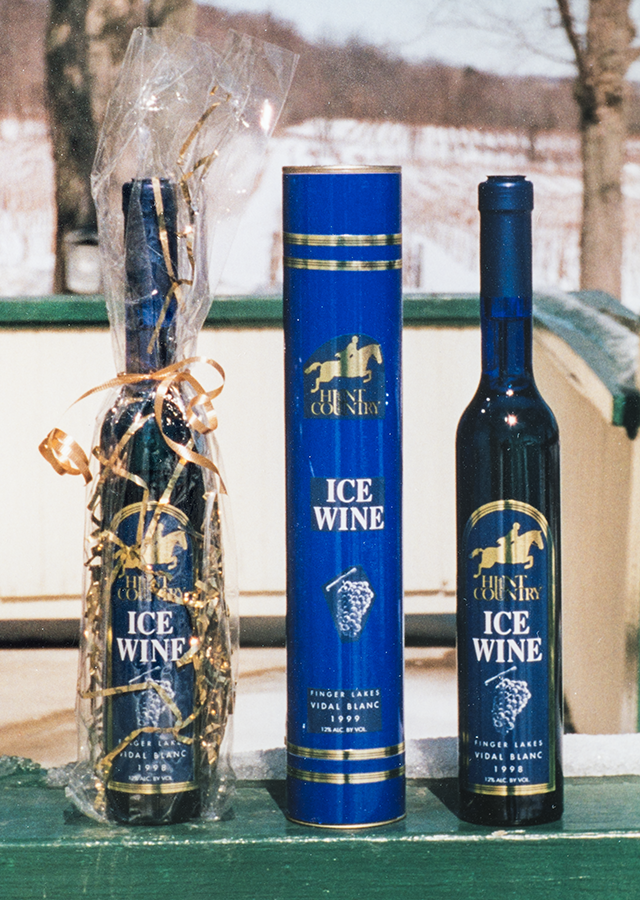 At Hunt Country, we're pretty proud to be the longest, continuous producer of genuine ice wine in the United States. However, we weren't the first.
In 1981, the Taylor Wine Company produced the first ice wine in the U.S. A couple years later, when Art was walking through one of Taylor's vineyards in late November, he happened to pick one of the frozen Vidal Blanc grapes and pop it in his mouth. It tasted like the most amazing sorbet and Art was hooked!
The Hunts then decided to field-graft an acre of their own with the same variety of grapes. Vidal Blanc is a French hybrid variety that's bred to withstand the cold of winter and ripen with a high amount of sugar even in cooler climates – grape characteristics that are essential to crafting a great ice wine.
In 1987, Art and Joyce had their first full Vidal crop of Vidal. They left all it on the vine so they could make their very first batch of ice wine.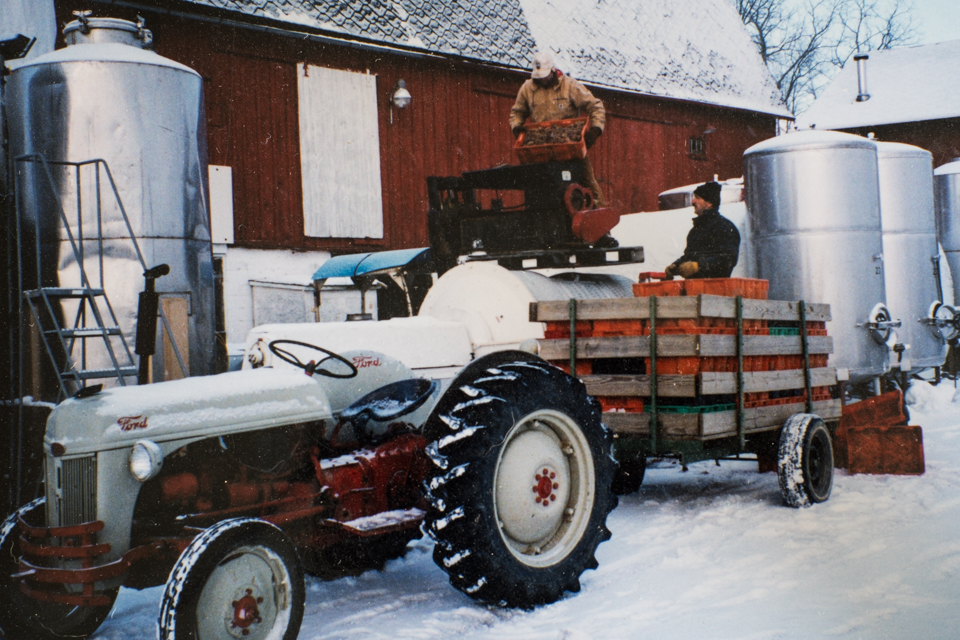 Genuine ice wine – or "Eiswein" as it's known in Germany – is made by allowing the grapes to freeze in the vineyards deep into the winter. Then early one morning - before the temperature rises above 15° F in the vineyards - the grapes are harvested by hand. The fruit is then pressed for many hours to get a small quantity of intensely flavored juice which concentrates sweetness, flavors and acidity.
There are, of course, many risks involved with making ice wine like this. The grapes have to hold up to rugged winter conditions. Deer, birds and other wildlife can eat the fruit before it's harvested. And the winter may not get cold enough for long enough to freeze the fruit – a possibility thats becoming more and more likely with climate change.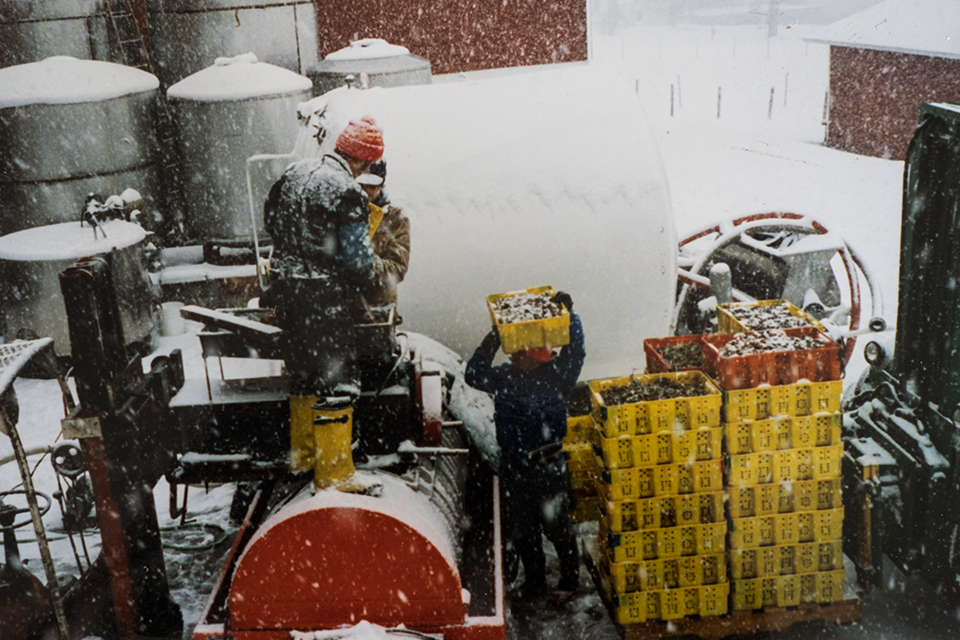 However, when everything goes right, the resulting wine is deep gold in color and filled with flavors of rich honey, sweet apricot and exotic fruit. It's liquid gold and unlike anything you might have tasted before.
That's why we've been so committed to crafting ice wine for all these years.
So to celebrate our long and storied history with this amazing wine, and to continue celebrating our 40th anniversary, our Vidal Blanc Ice Wine is now $40 a bottle.
If you've never tried genuine ice wine before, now's your chance. And if you're already a fan, now's your opportunity to add a few more bottles to the wine cellar – it ages very well!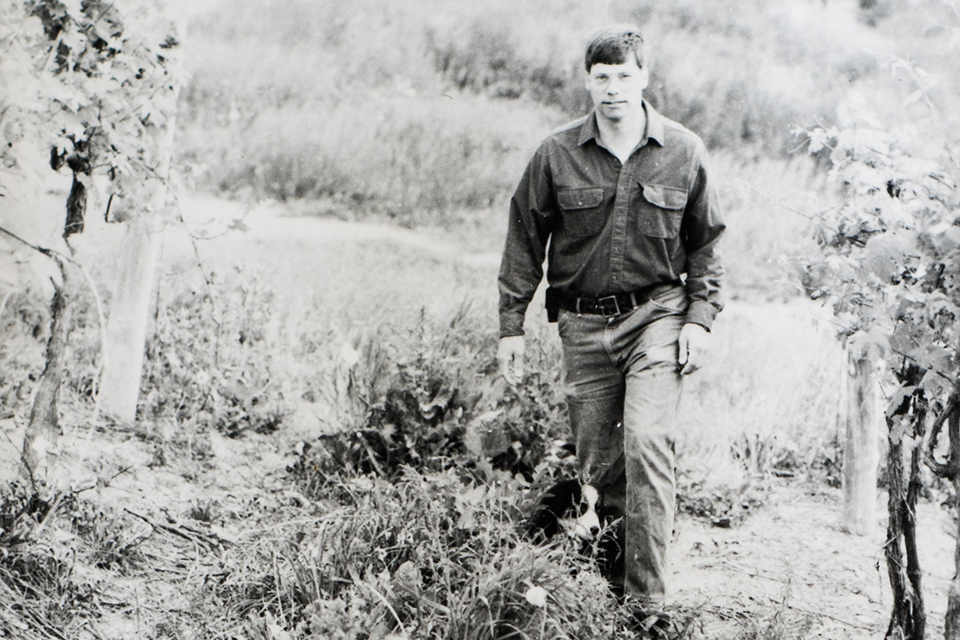 When Art and Joyce Hunt first moved back to the family farm in the 1970s, their intent was to live close to the land and run a farm like the Hunt family had done for several generations before. But the decisions they made – and the circumstances that came their way – would eventually lead them to open Hunt Country Vineyards in 1981 and become one of the founding families of the Finger Lakes wine region that we know and love today.
So throughout this year, we'll be celebrating our 40-year story of crafting delicious wine in the most beautiful place on Earth.
GETTING STARTED
The story of Hunt Country Vineyards begins about a decade before the winery itself was established.
In 1973, Art and Joyce Hunt moved back to the family farm on Keuka Lake to grow grapes, taking over from Art's elderly uncle. They knew very little about running a farm, but they were certain they wanted to be here.
Art's uncle was an excellent teacher. Art and Joyce learned how to care for 18 acres of grapes. They learned how to plant and grow a wide variety of grains, dry beans and hay crops. They started a garden for themselves, with both vegetables and fruit. They learned to cut down trees for wood and handle all of the old farm tools laying around. Art even became quite adept at restoring old buildings and old equipment.
Art and Joyce also planted another 50 acres of grapes. Like numerous farmers in the area, they planned to sell their grapes to one of the biggest and well-known wine producers: the Taylor Wine Company near Hammondsport, NY.
Growing grapes isn't like growing other crops. They require time, money, acreage and energy over several years before they ever produce their first harvest. Grapes are a long term investment.
Unfortunately, the Taylor Wine Company was purchased by the Coca-Cola company just a few years later – which changed the winemaker's operations. Art and Joyce were suddenly told Taylor wouldn't be buying their grapes. Farmers across the region were told the same thing, and the local grape market vanished overnight.
So Art and Joyce used the moment to learn yet another new skill: winemaking.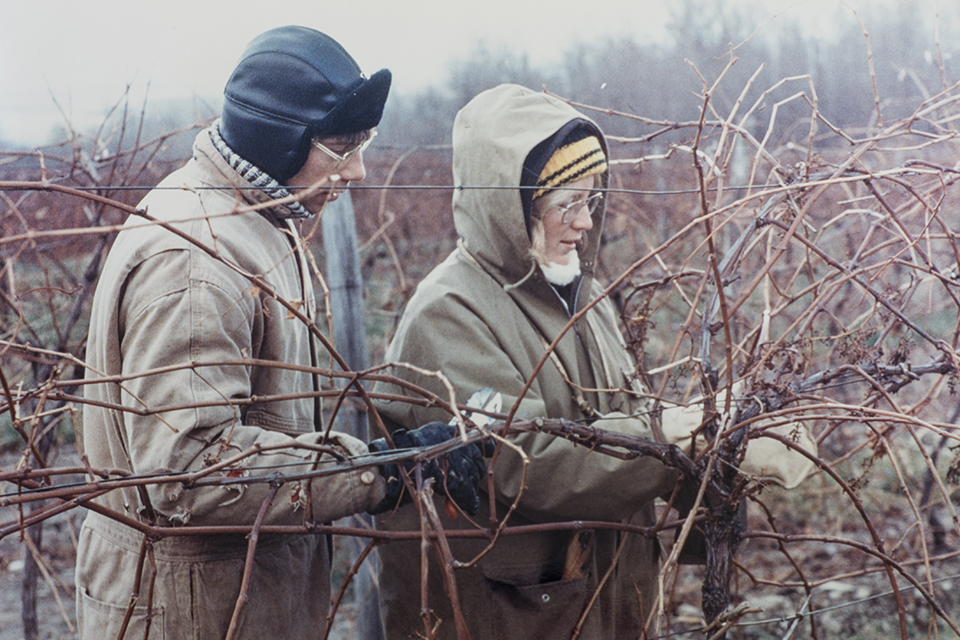 THE FIRST BATCH OF WINE
At first, Art and Joyce took part-time jobs and started selling juice to home winemakers. But they soon realized that if they really wanted to make a living, they'd need to open a farm winery and sell commercial amounts of wine.
So in 1981 they got started in a small shed that used to be a wing on the old farmhouse. They put a nice foundation under it, filled it full of barrels and started making wine – seven whites and one red.
The following spring, with the help of some friends, Art and Joyce bottled up the wine. They entered the varieties in a state wine competition and won a few awards. They also turned the same little shed into a tasting room. They added a deck, a counter, a cash register and some glasses, and were open for business.
The next year, their wines included Cayuga White, a new Cornell variety. It won the award for best wine in New York state and earned the Hunts a trip to the governor's mansion. The recognition gave Art and Joyce the courage to continue going with their winery plans.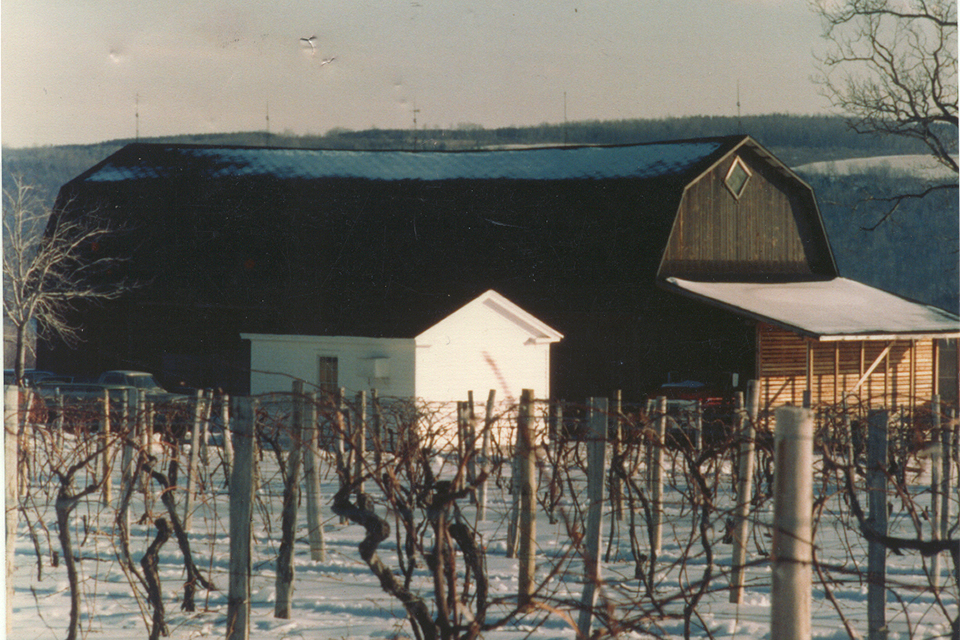 TIME TO CELEBRATE
After 40 years, we're still growing some of the very same grapes and making some of the very same wines as when we started: Cayuga White, Chardonnay, Classic Red, Riesling and Seyval Blanc. But so much has changed as well! To stay informed about how we're celebrating our origins and the continued evolution of Hunt Country Vineyards all throughout this year, visit huntwines.com – sign up for our weekly newsletter and follow us on Facebook and Instagram.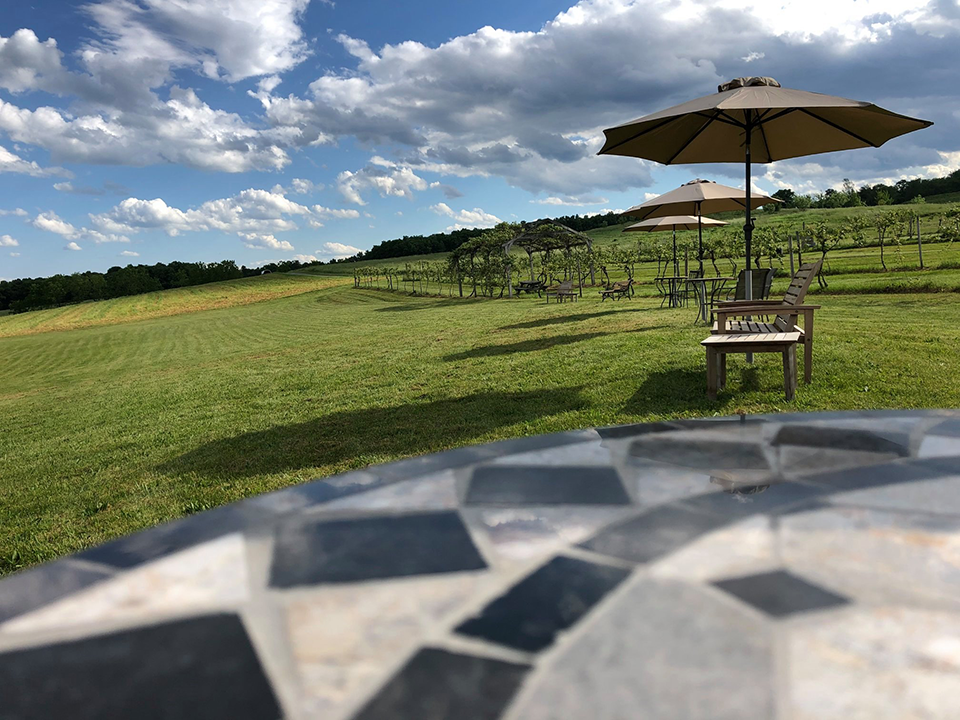 This weekend our outdoor space is open at Hunt Country! Come join us! You can purchase wine by the glass or the bottle to enjoy under the bright, blue skies of Keuka Lake. (We're not doing tastings just yet.) Groups of six people or less may sit together, and please make sure you maintain six feet of social distance between groups. The restrooms will be open to customers but you must wear a mask when using them. You're welcome to visit during our regular hours, but we will be closing promptly at 5 pm.
We know this is a bit different than before, but it's certainly a step in the right direction – because it's going to be a beautiful weekend!
If you have any questions, feel free to get in touch by phone (315-595-2812) or email (info@huntwines.com).
And we're still doing curbside service if you want to pick up some wine for the weekend!

This past week has been tragic and filled with powerful emotions for individuals and communities all across our country. So we are not sending out our regular newsletter today. It's a small thing we can do to honor and make space for more important voices at this moment.
Hunt Country has always been a place where all people are welcome. We will continue to be a place where all are welcome when we reopen. But even more than that, we will be looking at what more we can do to help foster the systemic change needed in our country. We promise to be part of the solution, right here where we are.
We love you all. See you soon.


You might have heard that the Finger Lakes region is "reopening" on March 15. Well, kind of. Different regions throughout New York will begin easing stay-at-home restrictions depending on when they meet certain milestones for managing COVID-19; the Finger Lakes has met these milestones and will begin the reopening process this Friday.
However, our region will be opening in phases. Phase One begins this Friday – but does not include winery tasting rooms. The best guess right now is that we will be included in Phase 3, later in June. We're definitely excited to begin welcoming visitors back to the winery, but it's looking like it will be a few weeks before that happens.
However, know this: We have already started making our plans to reopen! There will be some important changes to visiting the winery once we are open again – changes that are intended to keep everyone safe and to do our part to prevent future outbreaks of COVID-19. We'll keep you posted!
In the meantime, continue making the most of our front door service, keep ordering your favorite wines online, and Zoom with Karsten to get all your wine questions answered. And if you have any questions about reopening, please feel free to get in touch with us by email (info@huntwines.com) or phone (315-595-2812).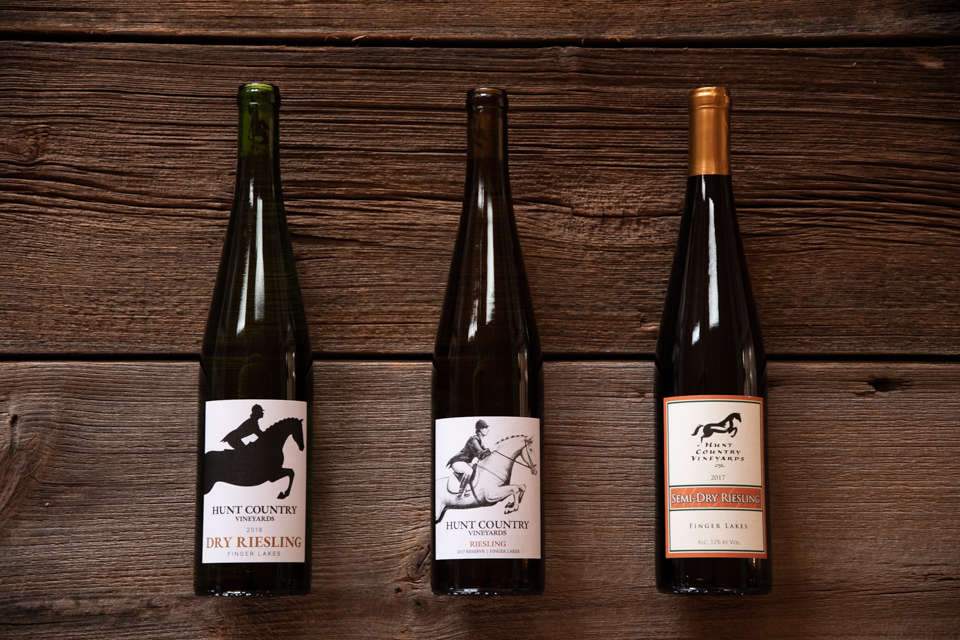 We are thrilled and humbled to announce that our three current Rieslings have scored 90+ points with the tasters at Wine & Spirits Magazine!
• 2018 Dry Riesling: 92 points and a Best Buy
• 2017 Reserve Riesling: 91 points
• 2017 Semi-Dry Riesling: 90 points and a Best Buy
"Since arriving in the Finger Lakes in 2017, my focus has been on producing wines that display the signature characteristics of the grapes from our region, while also achieving specific personal and house stylistic goals," says Craig Hosbach, our head winemaker. "We have an extraordinary team here at Hunt Country that works tirelessly to produce consistent, high quality wines. We are really happy to receive these three 90+ scores from Wine & Spirits Magazine that affirm our passion and efforts."
"We are extremely pleased to have received 90+ scores on all of our current Rieslings from Wine & Spirits Magazine," says Joyce Hunt, co-owner and co-founder of Hunt Country Vineyards. "They are a testament to the talent, dedication and passion of our winemaker, Craig Hosbach, as well as to the knowledge, experience and lifetime dedication of vineyardist, owner and my husband, Art Hunt. Many thanks go to the winery and vineyard teams who work to produce our fine wines."
If you haven't had our Rieslings recently, you should put them on the top of your tasting list. The good people at Wine & Spirits Magazine have affirmed what so many of us already know: These wines are absolutely delicious!

Normally, "going wine tasting" would mean getting together with a bunch of your friends and hitting a wine trail or visiting your favorite winery. But since this isn't currently possible, we want to offer you a similar experience – a brand new experience – in your own home.
For a limited time, during the month of April, we are making our Wine Tasting series of videos available to you! These are the videos we created in partnership with Keuka College for our Wine of the Finger Lakes online course. They feature Karsten König, our tasting room manager, and Nishant Ceyyur, one of our stellar employees, giving you a personal wine tasting with all of the knowledge they have to offer. Both Karsten and Nishant hold a Level 3 Certification from the Wine & Spirit Educational Trust.
The first video in the five-part series is available for free! Grab a bottle of Riesling and taste along with Karsten and Nishant. The other videos in the series focus specifically on tasting Reds, Whites, Sparkling wines and Rosés, and Dessert wines.
To get access to these four other videos, simply purchase the special Wine Tasting Bundle we've put together with all of the wines featured in the series.
Normally, these videos are part of a $400 course, plus the cost of wine. But since social distancing is requiring all of us to do things differently, we've decided to change things up.
It's another small thing we and our partners at Keuka College can to do bring some fun into the adjustments we're all having to make these days.
The Fine Print
These wine tasting videos and the Wine Tasting Bundle will be available April 2 through April 30, 2020.
The first video (Wine Tasting - An Introduction) is free to access and taste along with. Grab a bottle of Riesling and taste along right now!
Access to the remaining four (4) tasting videos will be provided with the purchase of our Wine Tasting Bundle. Important note: Due to rules and regulations beyond our control, this specific bundle of wines cannot be sent to all states. Please phone the winery to see how we can adjust the bundle for you.
Links and passwords to the remaining four wine tasting videos will be included with the Wine Tasting Bundle when it ships to you.
The videos are hosted on a third-party platform, Vimeo.
TECH REQUIREMENTS: Viewing the videos should be pretty straight forward. You just need a computer or mobile device that can play web-based videos. Make sure you can play the introductory tasting video. Where you able to see everything okay? Were you able to hear everything okay? Then you should be all set, technology-wise.
ACCESSIBILITY: The videos are not yet closed captioned. However, we have complete transcripts available. If a transcript would be helpful to you, just let us know when you order your Wine Tasting Bundle. We'll get you the transcripts at the same time we send the links and passwords. We'd also love to know how we can make these videos even more accessible in future iterations.
If you have any questions at all, please get in touch with us by phone (315-595-2812) or email (info@huntwines.com).