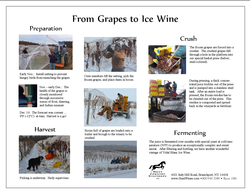 The Hunt family is the longest continuous producer of true Ice Wine in the United States. Crafted in the tradition of a German "eis wine", the Vidal grapes are left on the vine long past the normal harvest and deep into the winter. The Hunts wait patiently for the grapes to freeze solid and then early one morning - before the temperature rises above 15 F in the vineyards - they pick the grapes by hand. The frozen grapes are then pressed for many hours to get a small quantity of intensely flavored juice which concentrates sweetness, flavors, and acidity. It's a risky process because of unpredictable weather and wildlife that can ruin an entire crop.

But the result is a wine filled with the sweet flavors of apricot, raisin, and honey. Delicious with desserts and wonderful all on its own.
A bottle serves approximately six 2-ounce glasses.
Vidal Blanc Ice Wine 2013 (Sold Out)
WINNER, JEFFERSON CUP, 2014 Jefferson Cup Invitational Wine Competition
DOUBLE GOLD Medal and BEST OF CLASS, 2014 Grand Harvest Awards, Sonoma County, CA
GOLD Medal, 2015 Riverside (Calif.) International Wine Competition, Santa Rosa, CA
GOLD Medal, 2015 Finger Lakes International Wine Competition, Mendon, NY
Vidal Blanc Ice Wine 2007 (Sold Out)
95 RATING (Exceptional wine) and GOLD Medal,
2010 World Wine Championships, Beverage Testing Institute (tastings.com)
EXAMPLE OF AMERICAN GREATNESS (Gold), 2010 Jefferson Cup Invitational Wine Competition
GOLD Medal, 2011 Big E Northeast Gold Wine Competition
Vidal Blanc Ice Wine 2006 (Sold Out)
94 Rating (Exceptional wine) and Gold Medal, 2009 World Wine Championships, tastings.com
Double Gold Medal and Best of Category (Dessert Wines), 2008 NYS Fair Commercial Wine Comp.
Gold Medal, 2008 Tasters Guild International Wine Judging
Gold Medal, 2008 Grand Harvest Awards
Example of American Greatness (Gold), 2007 Jefferson Cup Invitational Wine Competition
Gold Medal, 2008 Big E Northeast Gold Wine Competition
Vidal Blanc Ice Wine 2005 (Sold Out)
Gold Medal, 2007 Florida State Fair International Wine Competition
Gold Medal, 2006 Amenti del Vino Wine Competition
Gold Medal, 2006 Big E Northeast Gold Wine Competition
Gold Medal and Best of Clasa (Ice Wines), 2006 NY State Fair Commercial Wine Competition