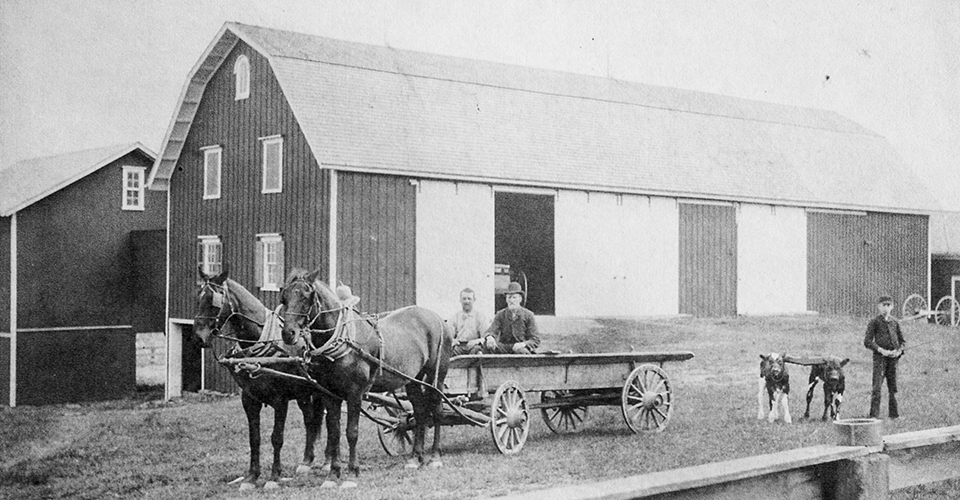 The Hunt family has been farming on the west side of Keuka Lake for seven generations.
Art Hunt's thrice-great uncle Josiah W. Prentiss is credited with introducing "grape culture" to the Crooked Lake when he planted the first commercial vineyard in the 1830s. Unfortunately, Prohibition put an abrupt end to this original grape and wine boom in the Finger Lakes.
A century and a half later, in the 1980s, Art and Joyce Hunt started one of the very first wineries that helped the Finger Lakes become the wine region it is today: Hunt Country Vineyards. Art worked closely with Cornell grape specialists, identifying new grape varieties and pioneering the technique for field grafting vines in cold climates like the Northeast. He also helped craft some of the New York state legislation that made growth of the industry possible.
The Hunt family is committed to responsible, sustainable farming and production practices. We've installed award-winning solar and geothermal systems to reduce our use of fossil fuels. We make extensive use of mulch and compost in the vineyards, as well as cover crop and biochar, to increase soil health. And we're increasing habitat for bees, birds and other wildlife all around the farm to create a more resilient environment in which to grow grapes.
---
Renewable Energy
Farming has always been hard, but climate change is making it even harder these days. We depend on clean air and water, healthy soil, and a stable climate to make great wines. And that's why we're doing everything we can to help our region replace it's old dependence on fossil fuels with clean, advanced renewable energy.
Right here on the farm, we've installed a 348-panel solar system that provides most of our electricity. We have an award-winning borehole (closed loop) geothermal heating/cooling system that has eliminated our need for oil and propane to heat our buildings. And since it's generally more cost effective to save energy than to generate it, we're always looking to improve how efficiently we use energy with things like LED lights and the insulation in our buildings.
In 2015, Hunt Country and three other Finger Lakes wineries collectively received the Solar Champion Award from the Solar Energy Industries Association for our leadership in the transition to solar energy use. The other wineries that shared this award are Dr. Frank Vinifera Wine Cellars, O-Neh-Dah and Eagle Crest Vineyards, and Wagner Vineyards.
---
Soil Health
The soil is everything when it comes to growing grapes. Which is why we care for it so very much.
We amend our soil using compost and poultry manure only, no synthetic fertilizers. The compost comes from our own on-farm composting operation that is fed with grape pomace from our presses, leaves and yard waste from the Town of Jerusalem and residents around Keuka Lake, vegetable and other plant waste from the farm, and various livestock manures.
We roll out hay between the rows of vines to suppress weeds, hold moisture in the soil, and create improved habitat for the micro and macro fauna which are key to healthy soil.
The 24 acres of land immediately surrounding our winery and tasting room are certified organic. At the south end of the farm, we have transitioned a block of Vignoles, Cayuga, and Niagara grapes to organic production.
---
Fire Fighters
Art Hunt (founder and owner), Jonathan Hunt (director of winemaking), and Matt Kelly (director of media and communications) are all active members of the Branchport-Keuka Park Volunteer Fire Department. In fact, Art has been a volunteer firefighter for over 40 years.
These guys get called frequently. In the middle of the night or in the middle of harvest, they drop everything and run.
---
Woof Woof
Dogs are our constant companions here on the farm. That's why we're as dog-friendly as possible, with wide-open spaces to play and a dog poop clean-up station. Feel free to have your canine companions tag along on your visit. If you want to enjoy lunch or snacks with your pup, we have space on our deck and at our picnic tables. (Sorry, by law only two-legged visitors are allowed in the Café.)
Every year we host our Dog Walk fundraiser for the Humane Society of Yates County. This includes special dog walk routes around the farm, demonstrations by the Yates Country Sheriff K9 team, and a gathering of dog-related vendors. We also donate 10% of our total wine sales for the day to the Humane Society.
And we lend our support to the Humane Society of Yates County all-year round by sending them a portion of the sales from our Sweet Gus semi-sweet blush.
All of the dogs at the farm are adopted or rescue animals.