July 19, 2018 | News, Renewable Energy, Sustainable Practices | Hunt Country Vineyards
Hunt Country is the First Finger Lakes Winery to Install Electric Vehicle Chargers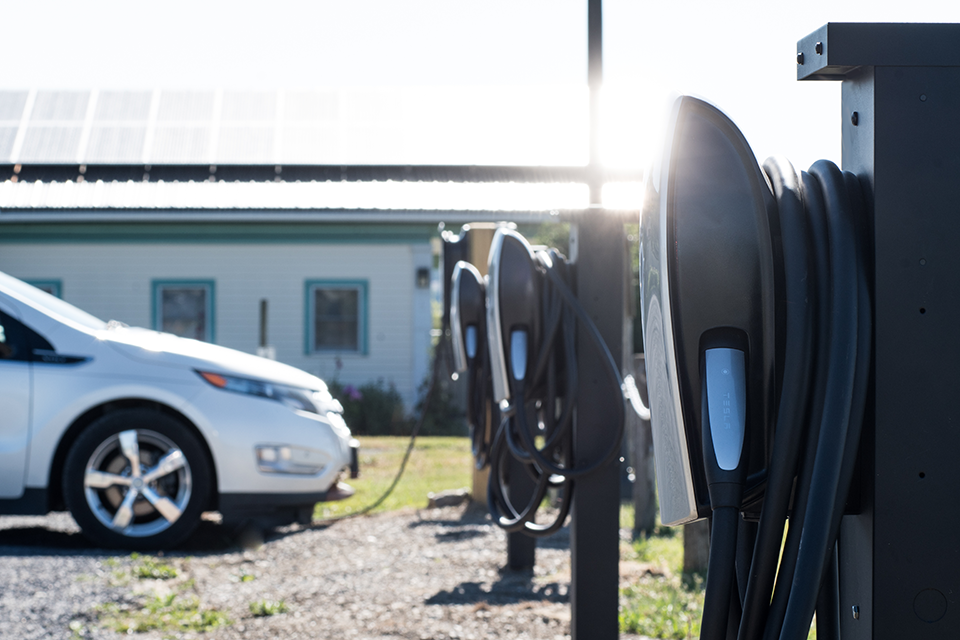 The Hunt family has just installed five electric vehicle chargers in their parking lot at Hunt Country Vineyards on Keuka Lake, which makes them the first winery in the Finger Lakes to provide charging stations to their customers.
"Sustainability is an evolution," says Suzanne Hunt, director of strategic development at Hunt Country Vineyards and a global consultant on renewable energy. "The EV chargers are just one more thing we can do as a business to help accelerate the transition to clean, locally-produced power."
In 2015, the Hunts installed a 348-panel solar system that provides most of the electricity used by the farm and winery. As a result, Hunt Country Vineyards and three other collaborating Finger Lakes wineries collectively received the national Solar Champion Award from the Solar Energy Industries Association for their leadership in helping the region transition to solar energy use.
According to the New York State Energy Research and Development Authority (NYSERDA), transportation currently accounts for 40 percent of the state's greenhouse gas pollution that contributes to a changing climate. Conventional cars and trucks also generate pollutants that directly affect human health, including carbon monoxide, particulate matter, hydrocarbons, nitrogen oxides and other toxins.
Electric vehicles, of course, don't produce any of these emissions. And even though electricity generated by burning fossil fuels is often used to charge EVs, the Union of Concerned Scientists has determined that it's still four times cleaner to drive an electric car than the average conventional car.
"Electric vehicles are the only vehicles that get cleaner over time, as our grid gets cleaner," says Hunt. "The faster we transition to renewables, the faster we eliminate the harmful emissions."
EVs also incur dramatically lower lifetime costs to their owners due to reduced (or non-existent) fuel costs and lower maintenance costs. A typical internal combustion engine has over 300 parts whereas an electric motor has fewer than ten, significantly reducing the number of things that can break or require replacing.
"Driving an EV not only keeps the air cleaner but also keeps more money in your pocket," says Hunt.
The Hunts have installed four Tesla chargers and one universal charger, which can be used for other types of vehicles like the Chevy Volt and Bolt, the Nissan Leaf and the BMW i3. All five chargers were acquired through a program at Tesla: the company provides the chargers for free and pays for the installation, while the recipient business arranges and oversees the installation.
"And now we can provide free power to our customers with EVs," says Hunt. "We've already planned for the installation of additional universal chargers as more and more people come to the winery in electric vehicles."
According to several searches for EV charging stations in the Finger Lakes on the Tesla website (www.tesla.com/destination-charging), PlugShare (www.plugshare.com), ChargePoint (www.chargepoint.com) and Solving EV (www.solvingev.com), Hunt Country Vineyards is the only winery on Keuka, Seneca and Cayuga lakes to have charging stations available to their customers.
Comments
Commenting has been turned off.