NEWS & INFORMATION

You might have heard that the Finger Lakes region is "reopening" on March 15. Well, kind of. Different regions throughout New York will begin easing stay-at-home restrictions depending on when they meet certain milestones for managing COVID-19; the Finger Lakes has met these milestones and will begin the reopening process this Friday.
However, our region will be opening in phases. Phase One begins this Friday – but does not include winery tasting rooms. The best guess right now is that we will be included in Phase 3, later in June. We're definitely excited to begin welcoming visitors back to the winery, but it's looking like it will be a few weeks before that happens.
However, know this: We have already started making our plans to reopen! There will be some important changes to visiting the winery once we are open again – changes that are intended to keep everyone safe and to do our part to prevent future outbreaks of COVID-19. We'll keep you posted!
In the meantime, continue making the most of our front door service, keep ordering your favorite wines online, and Zoom with Karsten to get all your wine questions answered. And if you have any questions about reopening, please feel free to get in touch with us by email (info@huntwines.com) or phone (315-595-2812).

Normally, "going wine tasting" would mean getting together with a bunch of your friends and hitting a wine trail or visiting your favorite winery. But since this isn't currently possible, we want to offer you a similar experience – a brand new experience – in your own home.
For a limited time, during the month of April, we are making our Wine Tasting series of videos available to you! These are the videos we created in partnership with Keuka College for our Wine of the Finger Lakes online course. They feature Karsten König, our tasting room manager, and Nishant Ceyyur, one of our stellar employees, giving you a personal wine tasting with all of the knowledge they have to offer. Both Karsten and Nishant hold a Level 3 Certification from the Wine & Spirit Educational Trust.
The first video in the five-part series is available for free! Grab a bottle of Riesling and taste along with Karsten and Nishant. The other videos in the series focus specifically on tasting Reds, Whites, Sparkling wines and Rosés, and Dessert wines.
To get access to these four other videos, simply purchase the special Wine Tasting Bundle we've put together with all of the wines featured in the series.
Normally, these videos are part of a $400 course, plus the cost of wine. But since social distancing is requiring all of us to do things differently, we've decided to change things up.
It's another small thing we and our partners at Keuka College can to do bring some fun into the adjustments we're all having to make these days.
The Fine Print
These wine tasting videos and the Wine Tasting Bundle will be available April 2 through April 30, 2020.
The first video (Wine Tasting - An Introduction) is free to access and taste along with. Grab a bottle of Riesling and taste along right now!
Access to the remaining four (4) tasting videos will be provided with the purchase of our Wine Tasting Bundle. Important note: Due to rules and regulations beyond our control, this specific bundle of wines cannot be sent to all states. Please phone the winery to see how we can adjust the bundle for you.
Links and passwords to the remaining four wine tasting videos will be included with the Wine Tasting Bundle when it ships to you.
The videos are hosted on a third-party platform, Vimeo.
TECH REQUIREMENTS: Viewing the videos should be pretty straight forward. You just need a computer or mobile device that can play web-based videos. Make sure you can play the introductory tasting video. Where you able to see everything okay? Were you able to hear everything okay? Then you should be all set, technology-wise.
ACCESSIBILITY: The videos are not yet closed captioned. However, we have complete transcripts available. If a transcript would be helpful to you, just let us know when you order your Wine Tasting Bundle. We'll get you the transcripts at the same time we send the links and passwords. We'd also love to know how we can make these videos even more accessible in future iterations.
If you have any questions at all, please get in touch with us by phone (315-595-2812) or email (info@huntwines.com).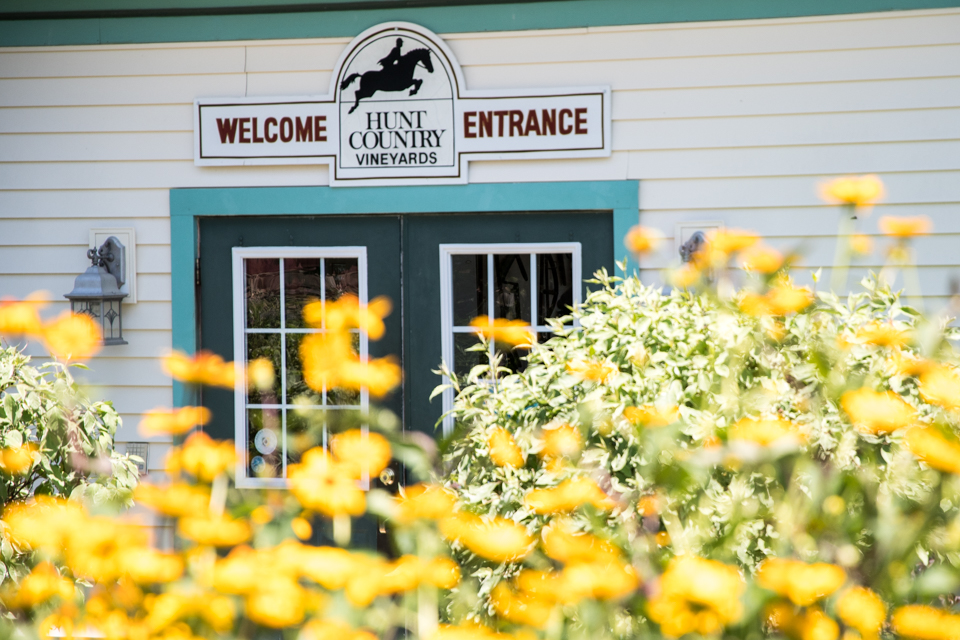 As you've heard by now, the governor of New York has ordered all bars, restaurants and other places serving food or beverage to temporarily close to help stop the spread of the coronavirus. This is a smart decision and we're happy to do our part.

However, practicing good social distancing does not mean you have to go without wine. So here's our Front Door Plan to continue serving you. Starting today:

1. We're providing front door pick-up at Hunt Country Vineyards, Tuesday - Saturday, 10 am to 5 pm.
• Call in your order (315-595-2812) and make payment over the phone.
• Schedule a time to pick up your order or call when you arrive.
• Wait in your vehicle and we'll bring your purchase to you. (Have your ID ready because we may need to check it.)
• Return home and enjoy your wine.

2. Our online store remains open 24/7.
• Go to HuntWines.com.
• Order your favorite wine. Have it shipped straight to your front door or to a friend's front door.
• We're currently offering FREE SHIPPING on orders of 6 or more bottles.

Our Front Door Service will be in place through April 15 May 15 for the foreseeable future, per the governor's orders. But, obviously, things are going to continue changing over the next few weeks. So we'll keep you posted with our newsletter, website and social media. If you have any questions at all, please get in touch with us by phone (315-595-2812) or email (info@huntwines.com).

Be good to yourselves. Take care of your family, friends and neighbors. And let us know how we can help you out!

Hello friends and fans,

We want to take just a few moments to touch base with you about the continuing spread of the coronavirus (COVID-19) and the steps we're taking at Hunt Country in response.

First and foremost, we hope you're all doing well! If you're feeling ill, we hope you're able to stay home for a few days and take care of yourself. Keep washing your hands. Stay supplied with the items you'll need for several days. Stay informed with the most accurate information. And let's be sure we're taking care of our family and neighbors, too!

Second, we plan to remain open during the hours currently posted on our website. In our tasting room, we're implementing best practices to keep the tasting experience safe and enjoyable. We're washing our hands preventively and often. Staff are staying home when ill. We're regularly cleaning all of the high-use surfaces (like our serving bar and door handles) with EPA-approved antimicrobial products. We're sanitizing our glasses and other serving items according to guidance from the New York Department of Health, and we're doing the laundry according to guidance from John Hopkins Medical.

One specific change we are making is temporarily limiting the size of group visits and tours. Please give us a call for more details.

Of course, some of the best advice to minimize exposure to the virus is to avoid public places and crowds – which could mean not visiting our tasting room. If that's the case for you, we'll definitely miss seeing you for a while but we completely understand spending more time at home. Our online store is always open, and we're thinking up some fun new ways to interact with everyone through our newsletter and videos.

Monitoring the coronavirus situation has become like watching the weather here at the farm: we're paying close attention every day. Depending on how things progress, our hours could change, planned events might be rescheduled, and new events might pop up. We'll keep you posted through our newsletter, social media and website.

If you have any questions at all, please feel free to get in touch with us by email (info@huntwines.com) or phone (800-946-3289).

We look forward to seeing all of you soon!

The Hunt family and team