NEWS & INFORMATION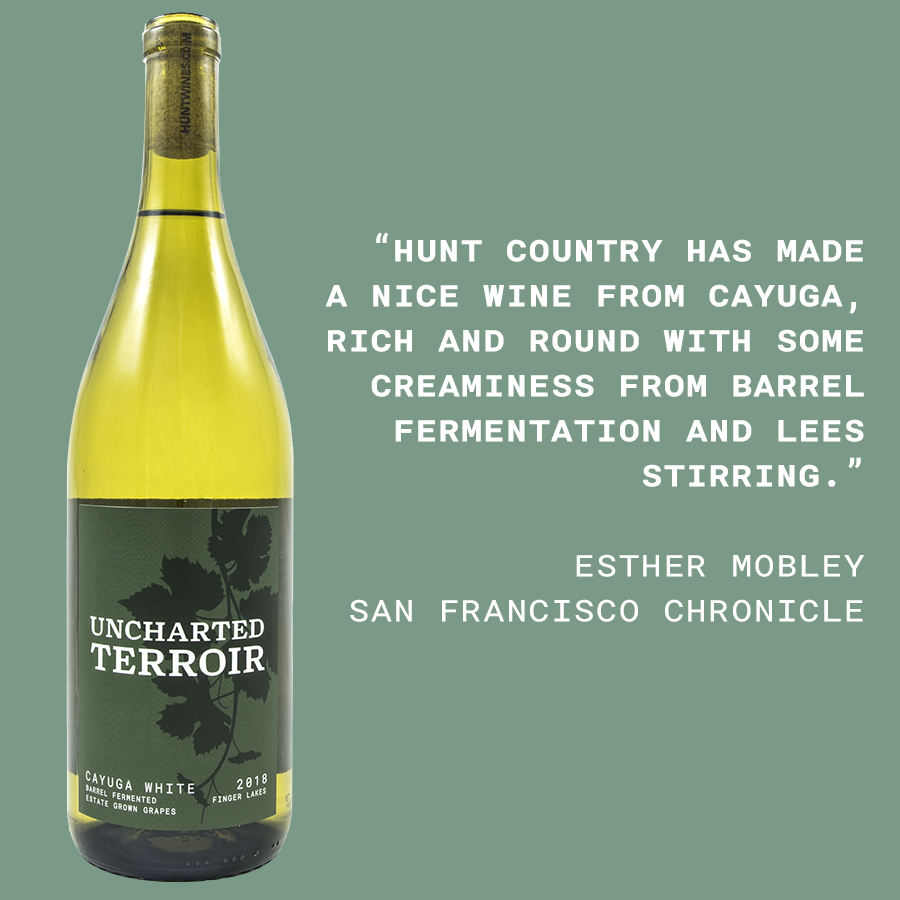 Our 2018 Uncharted Terroir Cayuga White received a wonderful little review from Esther Mobley, the wine critic for the San Francisco Chronicle. It was part of a bigger piece she wrote about hybrid wines that she really enjoys – and why hybrid grapes are becoming more and more important.

"What makes the hybrid conversation urgent is climate change. As temperatures warm and weather patterns become more erratic, vinifera may not be able to thrive forever in all of the places where it's currently grown. Some scientific predictions, in fact, suggest if current trends persist, half of the world's wine regions will become inhospitable to vinifera. Sure, the European grapes — all our Cabernet Sauvignons and Pinot Noirs and Syrahs — are working great in California now. But they may not always...

"Most of the efforts with hybrid winemaking in the U.S., however, are happening outside of California, in areas where extreme weather makes it difficult to grow vinifera successfully... Under its new Uncharted Terroir label, Hunt Country Vineyards in upstate New York has made a nice wine from Cayuga, rich and round with some creaminess from barrel fermentation and lees stirring."

Read the full story when you have a few minutes.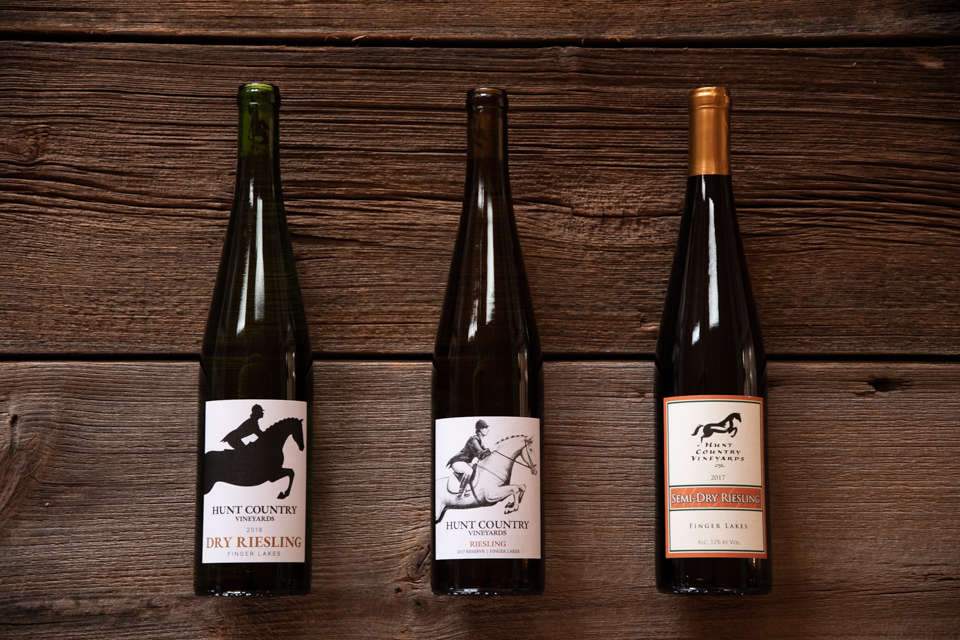 We are thrilled and humbled to announce that our three current Rieslings have scored 90+ points with the tasters at Wine & Spirits Magazine!
• 2018 Dry Riesling: 92 points and a Best Buy
• 2017 Reserve Riesling: 91 points
• 2017 Semi-Dry Riesling: 90 points and a Best Buy
"Since arriving in the Finger Lakes in 2017, my focus has been on producing wines that display the signature characteristics of the grapes from our region, while also achieving specific personal and house stylistic goals," says Craig Hosbach, our head winemaker. "We have an extraordinary team here at Hunt Country that works tirelessly to produce consistent, high quality wines. We are really happy to receive these three 90+ scores from Wine & Spirits Magazine that affirm our passion and efforts."
"We are extremely pleased to have received 90+ scores on all of our current Rieslings from Wine & Spirits Magazine," says Joyce Hunt, co-owner and co-founder of Hunt Country Vineyards. "They are a testament to the talent, dedication and passion of our winemaker, Craig Hosbach, as well as to the knowledge, experience and lifetime dedication of vineyardist, owner and my husband, Art Hunt. Many thanks go to the winery and vineyard teams who work to produce our fine wines."
If you haven't had our Rieslings recently, you should put them on the top of your tasting list. The good people at Wine & Spirits Magazine have affirmed what so many of us already know: These wines are absolutely delicious!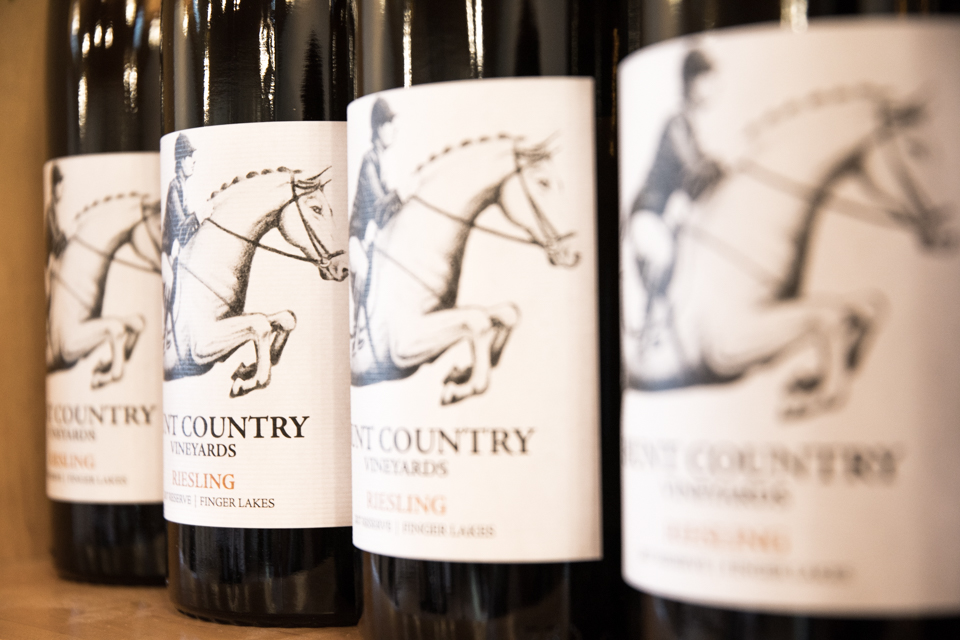 Check out this outstanding review of our 2017 Reserve Cabernet Franc and 2017 Reserve Riesling by the amazing Annemarie Morse over at The Cork Report.
"I felt a real sense of family, dedication to creating great wines and a sense of environmental awareness strongly illustrated in this visit and I look forward to tasting more of the wines that Craig and the Hunt family continue to create."
Lovely!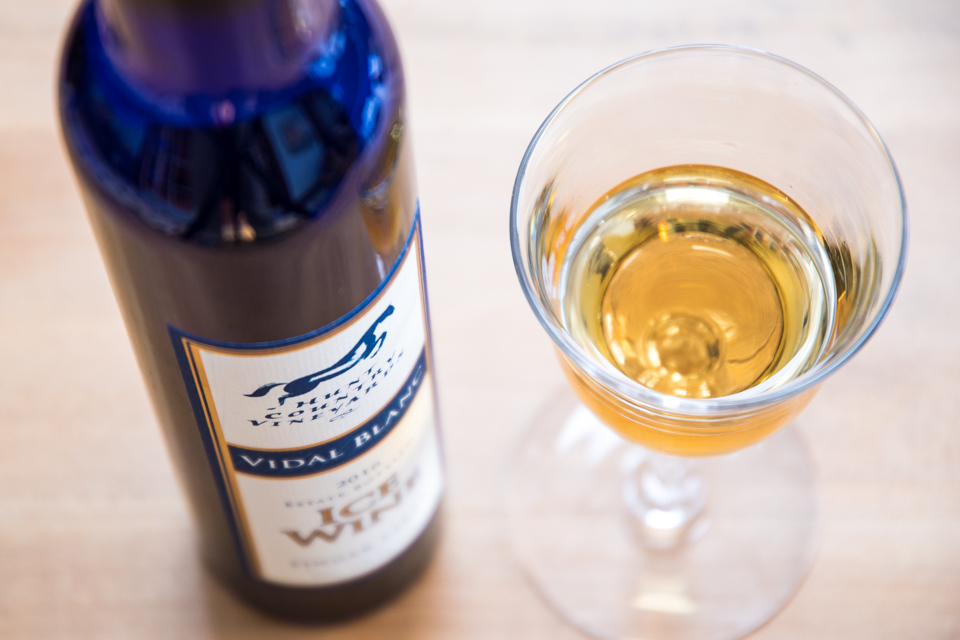 This week the New York Wine & Grape Foundation announced the results of the 2018 New York Wine Classic, and our 2016 Vidal Blanc Ice Wine was judged to be the best ice wine in the state!
The New York Wine Classic is organized by the New York Wine & Grape Foundation and is open to all 440 wineries in New York. The awards are based on blind tastings by 21 expert judges from across the country. Judges include prominent wine writers, restaurateurs, retailers, and wine educators.
We are thrilled to have such a prominent group of individuals recognize our Ice Wine as one of the best wines in New York. We've been crafting genuine ice wine since 1987, which makes us the longest continuous producer in the United States. There is difficulty and risk involved with making a traditional ice wine like this, but it's worth it!
If you haven't tried this brilliant dessert wine before, please do! We'd love to know what you think too.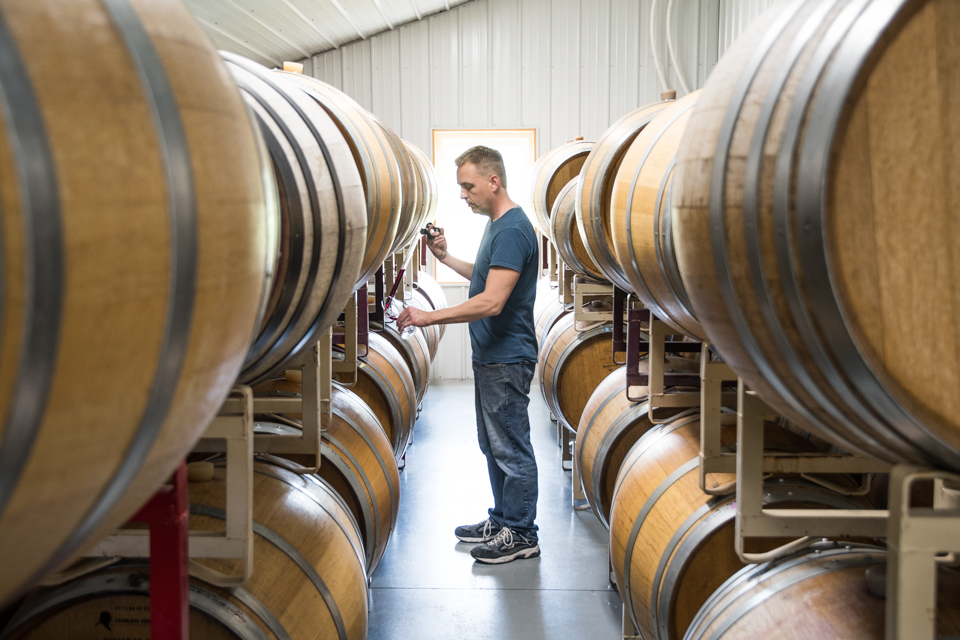 The warmer, sunnier days of summer are upon us. Which means we're headed into glorious days spent grilling food and laying out picnics for family and friends. But what wine goes best with this summer abundance?

"My favorite food-pairing wines are often sparkling wines," says Craig Hosbach, winemaker at Hunt Country Vineyards on Keuka Lake. "Sparkling wines are extremely food-friendly because the bubbles cleanse your palate, preparing you for your next bite of food."

The trick, he says, is to find rich foods that can hold their own against the carbonation. Smoked meats, cream sauces and strong cheeses like brie are a great place to start. Hunt Country's brand new Moscato, for example, is fantastic with strong, spicy Asian or Mexican dishes.
But then there's Remedy from Hunt Country, a brand new sparkling rosé that pairs wonderfully with more subtle fare like grilled salmon or tomato-cucumber salad.

"I'm always striving to make wines that combine two things that we're passionate about here at the farm," says Hosbach. "Growing great grapes to make great wines that complete your meal."

So what makes a great sparkling wine?

"Balance," he says. Hosbach believes that most (if not all) sparkling wines require a little bit of residual sugar to compliment the carbonation.

Moscato and Remedy are just two of the new wines released by the Hunt family just in time for summer. They also have a Traminette and a Cabernet Franc Rosé, and they're welcoming the return of a long-time favorite: their Pinot Gris.

To see all the wines they have to offer, visit Hunt Country Vineyards at their tasting room on Keuka Lake or online at HuntWines.com.