NEWS & INFORMATION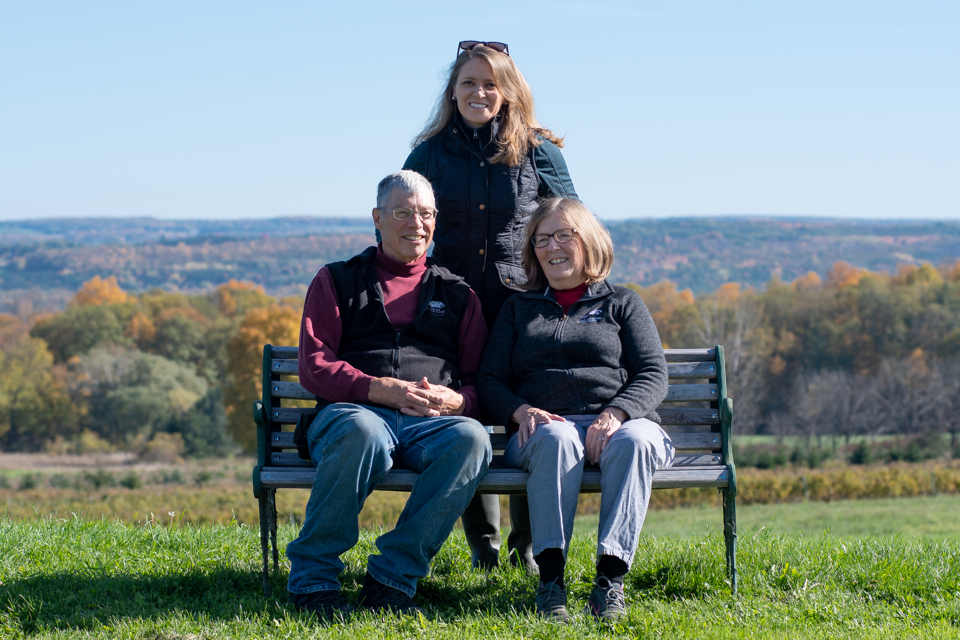 This week Wine Business Monthly released its 2021 list of Wine Industry Leaders – and Suzanne, Art and Joyce made the list!
Every year, Wine Business Monthly sets out to honor those who shape the way the wine industry operates or how people drink wine. With this leaders list, Wine Business Monthly is showcasing men and women who are making a difference. It's full of movers and shakers, and there are more than a few who are dissatisfied with the status quo. Some of the influential people on this list are known to virtually anyone who follows the wine industry, while others are influential yet fly "under the radar". All of them are leaders in the North American wine business.
Hunt Country is included on the list "for leading the Finger Lakes on a variety of environmental issues, most recently in promoting sustainable measures for viticulture, enology and business management projects."
It's a genuine honor to be part of this year's group of outstanding leaders!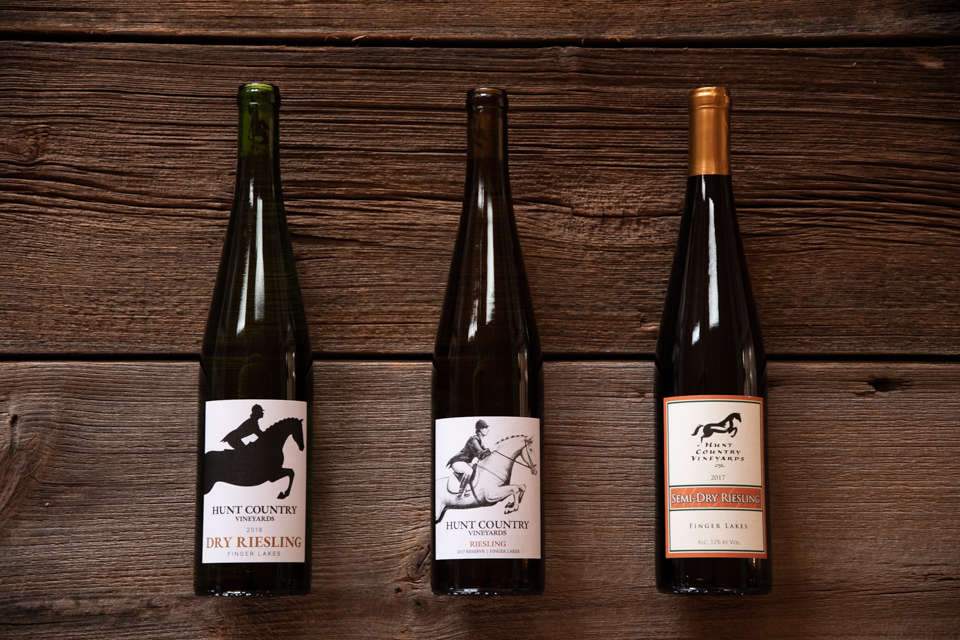 We are thrilled and humbled to announce that our three current Rieslings have scored 90+ points with the tasters at Wine & Spirits Magazine!
• 2018 Dry Riesling: 92 points and a Best Buy
• 2017 Reserve Riesling: 91 points
• 2017 Semi-Dry Riesling: 90 points and a Best Buy
"Since arriving in the Finger Lakes in 2017, my focus has been on producing wines that display the signature characteristics of the grapes from our region, while also achieving specific personal and house stylistic goals," says Craig Hosbach, our head winemaker. "We have an extraordinary team here at Hunt Country that works tirelessly to produce consistent, high quality wines. We are really happy to receive these three 90+ scores from Wine & Spirits Magazine that affirm our passion and efforts."
"We are extremely pleased to have received 90+ scores on all of our current Rieslings from Wine & Spirits Magazine," says Joyce Hunt, co-owner and co-founder of Hunt Country Vineyards. "They are a testament to the talent, dedication and passion of our winemaker, Craig Hosbach, as well as to the knowledge, experience and lifetime dedication of vineyardist, owner and my husband, Art Hunt. Many thanks go to the winery and vineyard teams who work to produce our fine wines."
If you haven't had our Rieslings recently, you should put them on the top of your tasting list. The good people at Wine & Spirits Magazine have affirmed what so many of us already know: These wines are absolutely delicious!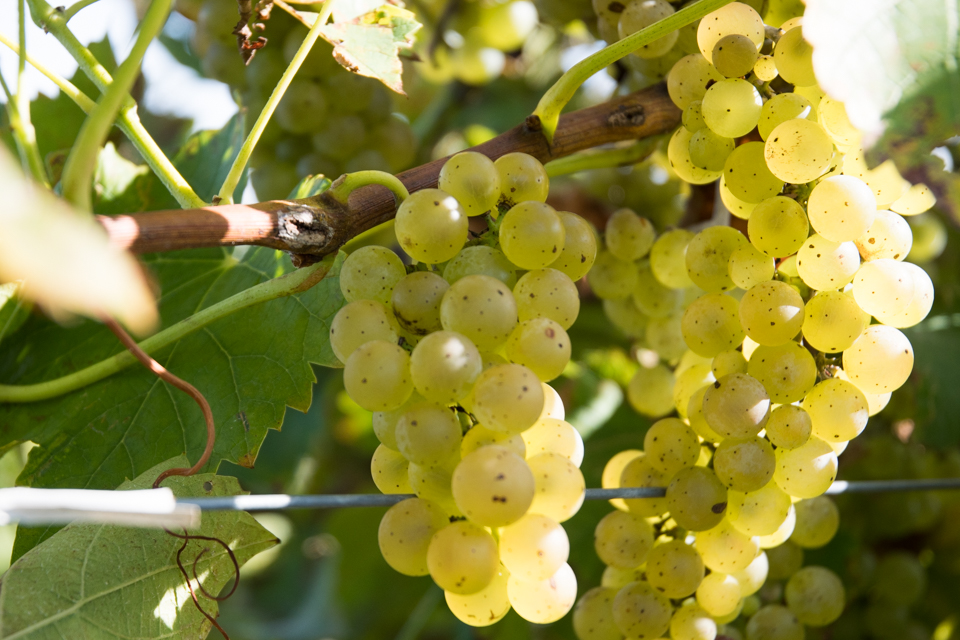 Hunt Country Vineyards on Keuka Lake is the recipient of the New York Wine & Grape Foundation's Sustainability Award for 2020.

"We congratulate Hunt Country Vineyards for being recognized by their peers as a pioneering winery deploying extensive sustainability practices on their farm and in their winery," says Sam Filler, executive director of the Foundation.

Presented for the first time in 2019, the Sustainability Award recognizes an organization or business that has demonstrated noteworthy sustainable practices and a commitment to conserving natural resources, protecting our environment, and contributing to the overall success of the New York State economy. The winner is determined by nominations from within the wine and grape industry, as well as related businesses and individuals.

"Hunt Country Vineyards sets the standard for what it means to be a sustainable winery operation in New York," says Filler.
"It's wonderful validation of many years of taking care of the land for future generations," says Art Hunt, co-founder and co-owner of Hunt Country Vineyards.
"It's great to receive this recognition," says Suzanne Hunt, Art's younger daughter and an international consultant for clean technologies and sustainable farming, who is also helping to run the family business. "The fact that the New York Wine & Grape Foundation created this award shows real leadership. We're honored to be the first winery to receive it."

When Art and Joyce Hunt, his wife and business partner, took over the farm in the 1970s, they realized that they needed to do more to care for the land and their community. Hunt Country Vineyards has since become a regional leader in sustainability. The seventh generation family farm has a 350 solar panel array that provides the majority of the farm's electricity needs. Hunt Country was an early adopter of extensive geothermal heating and cooling, and installed a system which has replaced the conventional A/C and heating in the tasting room, winery and warehouses. Hunt Country is the only Finger Lakes winery to provide free EV charging stations to customers. Several acres of the vineyards have been certified organic and the winery plans to release its first wine made from organically-grown grapes in 2020. Soil health is a priority, and Hunt Country has doubled the soil organic matter in their vineyards over the past decade. The vineyards and farm are managed as a complete ecosystem, providing ample habitat for a diverse community of bees, birds and other wildlife.

"Every winery and farm can do it," says Art. "It's not all or nothing. You can work at it every year without it impacting your bottomline too much and gradually increase your profitability."

The award will be formally presented to Hunt Country Vineyards during the Unity Awards ceremony at the Foundation's B.E.V. NY Conference at the end of February.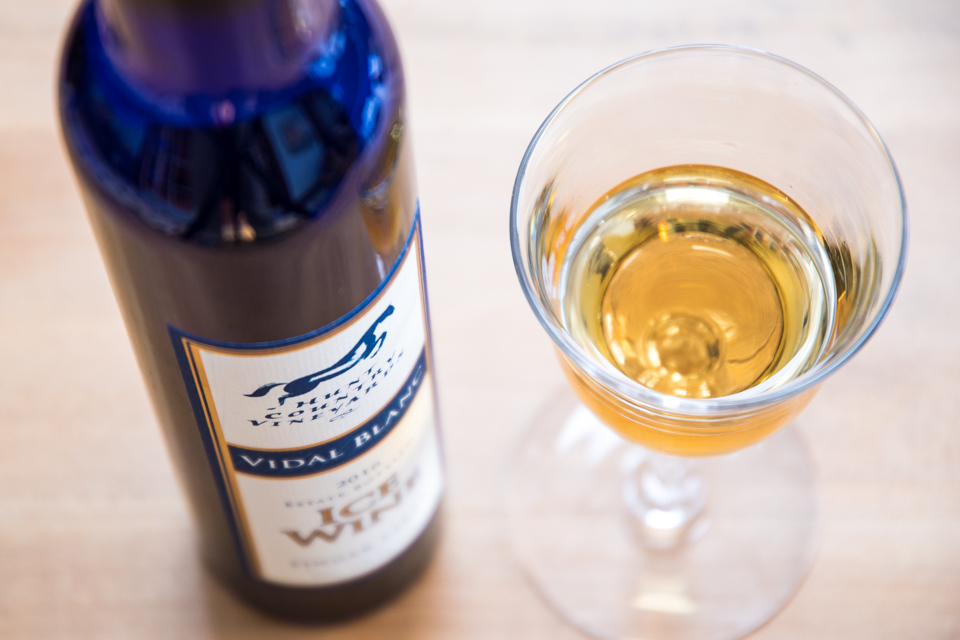 This week the New York Wine & Grape Foundation announced the results of the 2018 New York Wine Classic, and our 2016 Vidal Blanc Ice Wine was judged to be the best ice wine in the state!
The New York Wine Classic is organized by the New York Wine & Grape Foundation and is open to all 440 wineries in New York. The awards are based on blind tastings by 21 expert judges from across the country. Judges include prominent wine writers, restaurateurs, retailers, and wine educators.
We are thrilled to have such a prominent group of individuals recognize our Ice Wine as one of the best wines in New York. We've been crafting genuine ice wine since 1987, which makes us the longest continuous producer in the United States. There is difficulty and risk involved with making a traditional ice wine like this, but it's worth it!
If you haven't tried this brilliant dessert wine before, please do! We'd love to know what you think too.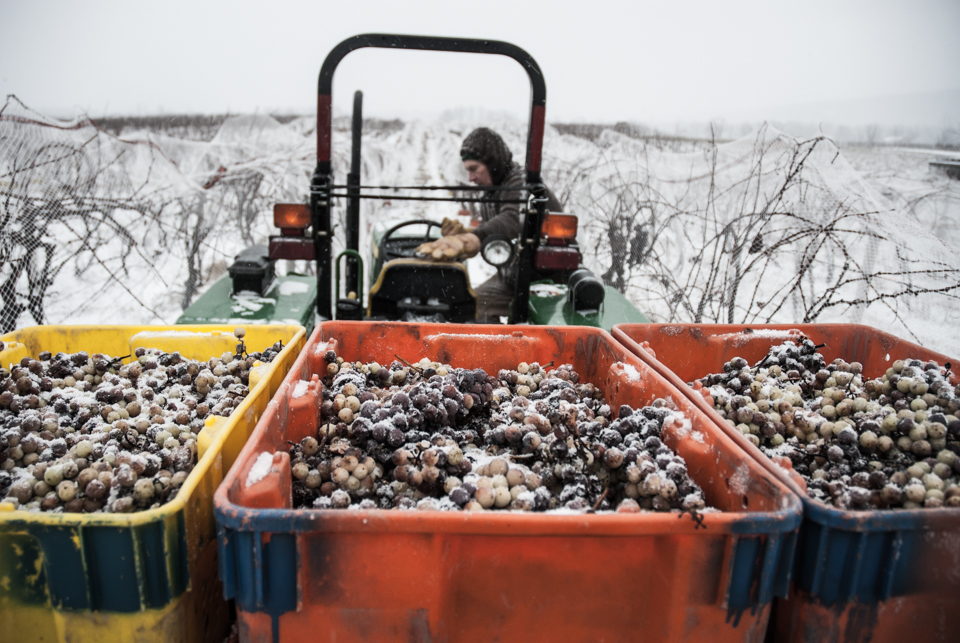 This past November, the Hunt family of Hunt Country Vineyards received some truly humbling recognition: a Jefferson Cup for their 2016 Vidal Blanc Ice Wine.
The Jefferson Cup is a national invitational in which 750 wines are pre-selected that exemplify top viticulture and winemaking throughout America. The goal is to respect the diversity of American viticulture and reflect Thomas Jefferson's own acceptance of native varieties and hybrid grapes. Jefferson wasn't just a Founding Father and the third president of the United States; he was also a seminal figure in America's cultural, culinary and agricultural history — including wine.
This year, the judges found just 62 of the invited wines worthy of Double Gold Medals. These Double Golds automatically became contenders for a Jefferson Cup in their respective categories. The wines were tasted by the entire group of judges and only sixteen were eventually awarded a prestigious Jefferson Cup.
Hunt Country Vineyards' 2016 Ice Wine received its Jefferson Cup in the Dessert Wine category.
The Hunts produced their first batch of ice wine in 1987, and Hunt Country Vineyards is now the oldest continuous producer of ice wine in the United States. Crafted in the tradition of a German "eis wine", the Vidal grapes are left on the vines deep into the winter. The Hunts wait for the fruit to freeze solid and then early one morning – before the temperature rises above 15° F in the vineyards – they pick the grapes by hand. The frozen grapes are then pressed for many hours to get a small quantity of intensely flavored juice that concentrates sweetness, flavors and acidity. The resulting wine is deep gold in color and filled with flavors of rich honey, sweet apricot and exotic fruit.
The Hunts are proud to be one of three Finger Lakes wineries that received Jefferson Awards this year, including Fox Run and Wagner vineyards.
"It really says something amazing about our region's wineries that four out of the sixteen Jefferson Cups were awarded to wines from the Finger Lakes," says Art Hunt, co-owner and co-founder of Hunt Country Vineyards.