April 23, 2020 | Awards, News, Wines | Hunt Country Vineyards
Our Rieslings score 90+ points!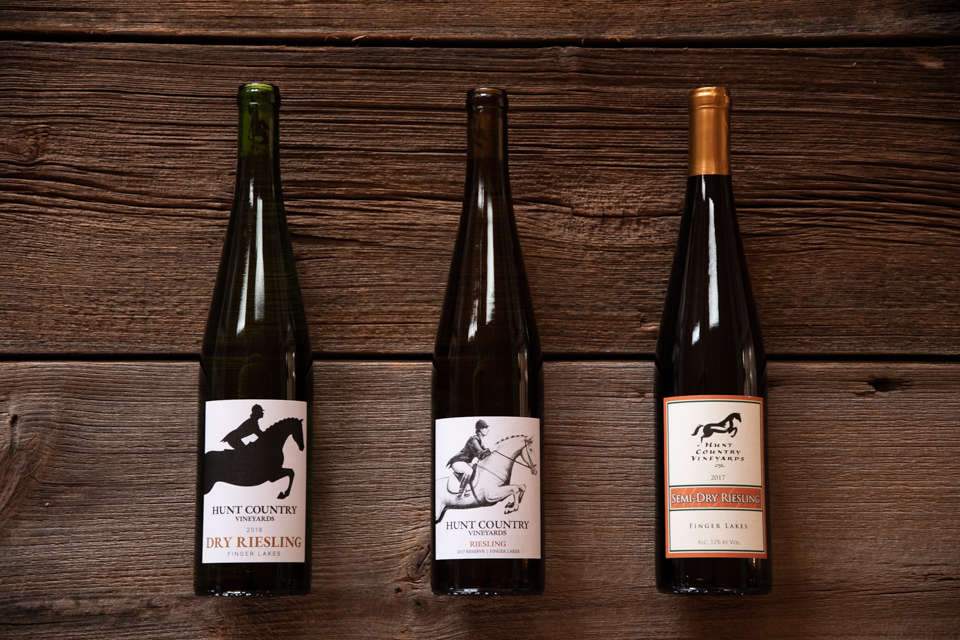 We are thrilled and humbled to announce that our three current Rieslings have scored 90+ points with the tasters at Wine & Spirits Magazine!
• 2018 Dry Riesling: 92 points and a Best Buy
• 2017 Reserve Riesling: 91 points
• 2017 Semi-Dry Riesling: 90 points and a Best Buy
"Since arriving in the Finger Lakes in 2017, my focus has been on producing wines that display the signature characteristics of the grapes from our region, while also achieving specific personal and house stylistic goals," says Craig Hosbach, our head winemaker. "We have an extraordinary team here at Hunt Country that works tirelessly to produce consistent, high quality wines. We are really happy to receive these three 90+ scores from Wine & Spirits Magazine that affirm our passion and efforts."
"We are extremely pleased to have received 90+ scores on all of our current Rieslings from Wine & Spirits Magazine," says Joyce Hunt, co-owner and co-founder of Hunt Country Vineyards. "They are a testament to the talent, dedication and passion of our winemaker, Craig Hosbach, as well as to the knowledge, experience and lifetime dedication of vineyardist, owner and my husband, Art Hunt. Many thanks go to the winery and vineyard teams who work to produce our fine wines."
If you haven't had our Rieslings recently, you should put them on the top of your tasting list. The good people at Wine & Spirits Magazine have affirmed what so many of us already know: These wines are absolutely delicious!
Comments
Commenting has been turned off.