NEWS & INFORMATION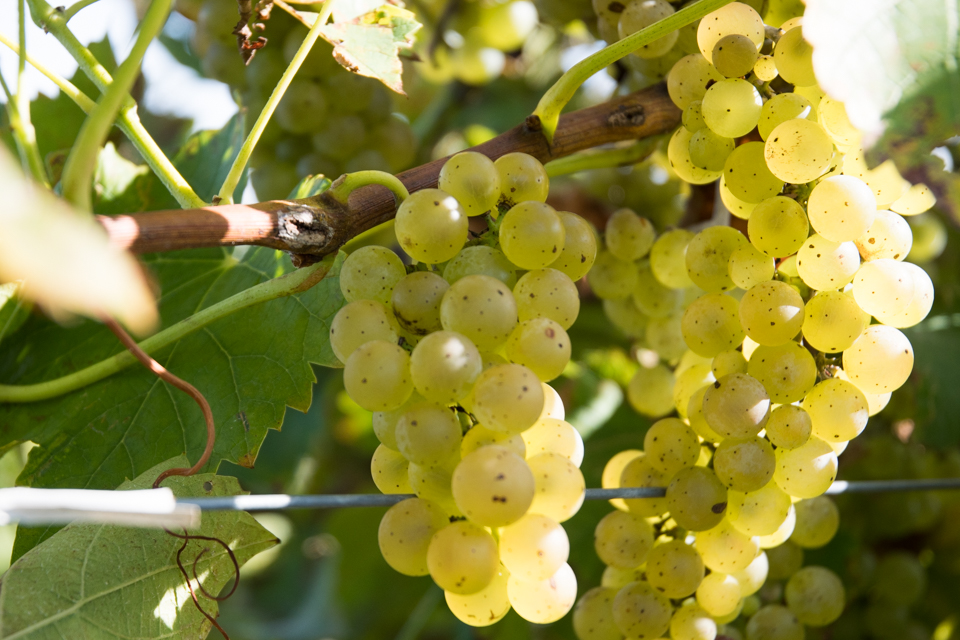 Hunt Country Vineyards on Keuka Lake is the recipient of the New York Wine & Grape Foundation's Sustainability Award for 2020.

"We congratulate Hunt Country Vineyards for being recognized by their peers as a pioneering winery deploying extensive sustainability practices on their farm and in their winery," says Sam Filler, executive director of the Foundation.

Presented for the first time in 2019, the Sustainability Award recognizes an organization or business that has demonstrated noteworthy sustainable practices and a commitment to conserving natural resources, protecting our environment, and contributing to the overall success of the New York State economy. The winner is determined by nominations from within the wine and grape industry, as well as related businesses and individuals.

"Hunt Country Vineyards sets the standard for what it means to be a sustainable winery operation in New York," says Filler.
"It's wonderful validation of many years of taking care of the land for future generations," says Art Hunt, co-founder and co-owner of Hunt Country Vineyards.
"It's great to receive this recognition," says Suzanne Hunt, Art's younger daughter and an international consultant for clean technologies and sustainable farming, who is also helping to run the family business. "The fact that the New York Wine & Grape Foundation created this award shows real leadership. We're honored to be the first winery to receive it."

When Art and Joyce Hunt, his wife and business partner, took over the farm in the 1970s, they realized that they needed to do more to care for the land and their community. Hunt Country Vineyards has since become a regional leader in sustainability. The seventh generation family farm has a 350 solar panel array that provides the majority of the farm's electricity needs. Hunt Country was an early adopter of extensive geothermal heating and cooling, and installed a system which has replaced the conventional A/C and heating in the tasting room, winery and warehouses. Hunt Country is the only Finger Lakes winery to provide free EV charging stations to customers. Several acres of the vineyards have been certified organic and the winery plans to release its first wine made from organically-grown grapes in 2020. Soil health is a priority, and Hunt Country has doubled the soil organic matter in their vineyards over the past decade. The vineyards and farm are managed as a complete ecosystem, providing ample habitat for a diverse community of bees, birds and other wildlife.

"Every winery and farm can do it," says Art. "It's not all or nothing. You can work at it every year without it impacting your bottomline too much and gradually increase your profitability."

The award will be formally presented to Hunt Country Vineyards during the Unity Awards ceremony at the Foundation's B.E.V. NY Conference at the end of February.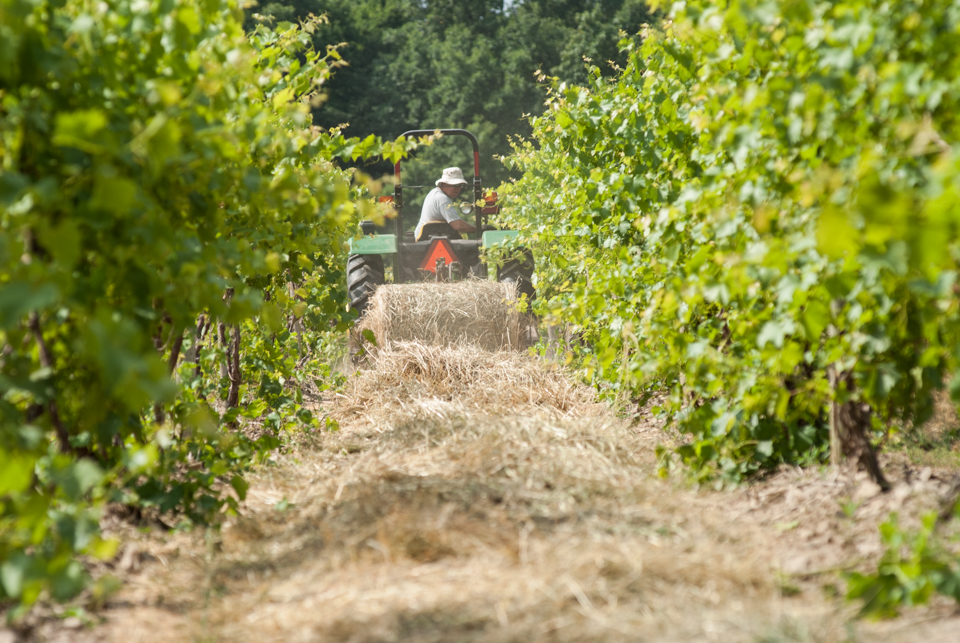 Climate change isn't just creating lower yields in vineyards, it's also making grapes more susceptible to pests and mildew. Many growers are using more pesticides to cope with increased pests. But Hunt Country Vineyards has gone the opposite route, reducing its pesticide use in favor of better soil management through mulching and composting.
Here's a great story by Irina Ivanova from CBS News about some of the impacts of climate change on the wine industry and how we're responding with sustainable farming practices here at Hunt Country.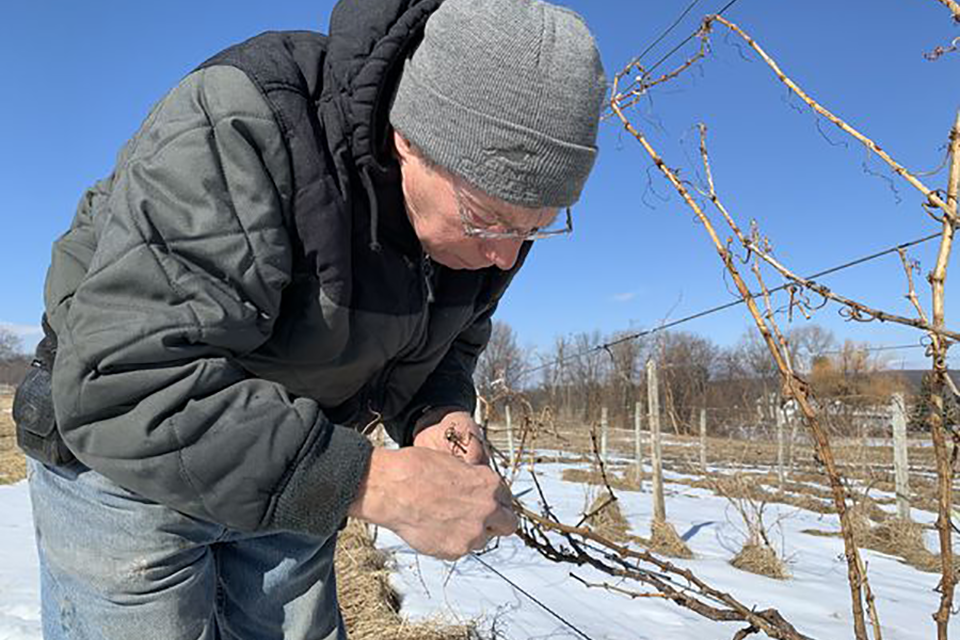 "We're already seeing changes in climate that are likely to have big impacts on the wine industry in the Northeast, including Upstate New York," says Ben Cook, a climate scientist with Columbia University and the NASA Goddard Institute for Space Studies.
Hunt Country Vineyards might be at the forefront of responding to human-caused climate change – and at taking steps to prevent it.
Here's a great story by Glenn Coin from The Post-Standard in Syracuse about how we and other Finger Lakes wineries are taking on the challenge of climate change.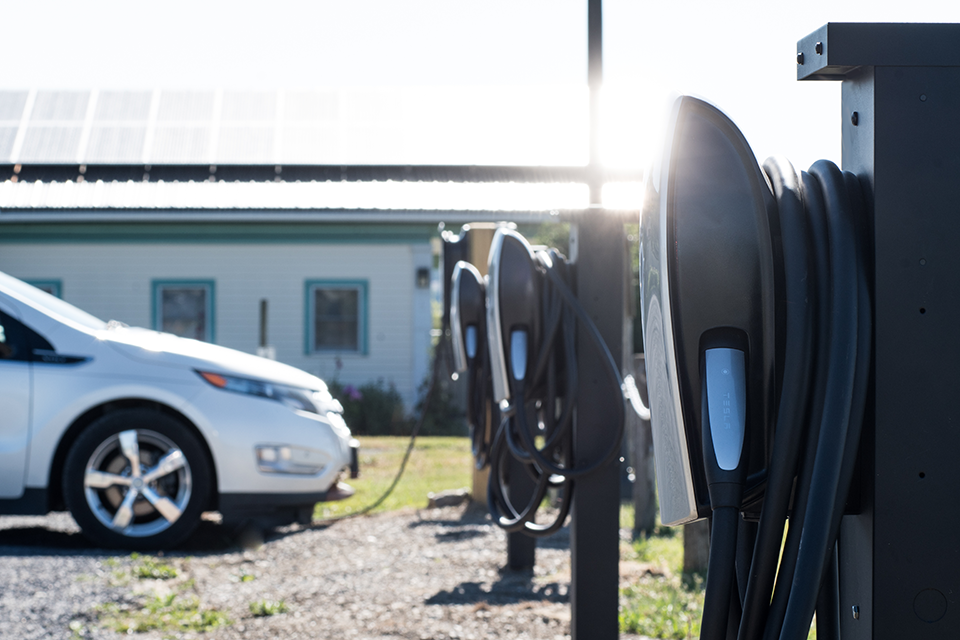 The Hunt family has just installed five electric vehicle chargers in their parking lot at Hunt Country Vineyards on Keuka Lake, which makes them the first winery in the Finger Lakes to provide charging stations to their customers.
"Sustainability is an evolution," says Suzanne Hunt, director of strategic development at Hunt Country Vineyards and a global consultant on renewable energy. "The EV chargers are just one more thing we can do as a business to help accelerate the transition to clean, locally-produced power."
In 2015, the Hunts installed a 348-panel solar system that provides most of the electricity used by the farm and winery. As a result, Hunt Country Vineyards and three other collaborating Finger Lakes wineries collectively received the national Solar Champion Award from the Solar Energy Industries Association for their leadership in helping the region transition to solar energy use.
According to the New York State Energy Research and Development Authority (NYSERDA), transportation currently accounts for 40 percent of the state's greenhouse gas pollution that contributes to a changing climate. Conventional cars and trucks also generate pollutants that directly affect human health, including carbon monoxide, particulate matter, hydrocarbons, nitrogen oxides and other toxins.
Electric vehicles, of course, don't produce any of these emissions. And even though electricity generated by burning fossil fuels is often used to charge EVs, the Union of Concerned Scientists has determined that it's still four times cleaner to drive an electric car than the average conventional car.
"Electric vehicles are the only vehicles that get cleaner over time, as our grid gets cleaner," says Hunt. "The faster we transition to renewables, the faster we eliminate the harmful emissions."
EVs also incur dramatically lower lifetime costs to their owners due to reduced (or non-existent) fuel costs and lower maintenance costs. A typical internal combustion engine has over 300 parts whereas an electric motor has fewer than ten, significantly reducing the number of things that can break or require replacing.
"Driving an EV not only keeps the air cleaner but also keeps more money in your pocket," says Hunt.
The Hunts have installed four Tesla chargers and one universal charger, which can be used for other types of vehicles like the Chevy Volt and Bolt, the Nissan Leaf and the BMW i3. All five chargers were acquired through a program at Tesla: the company provides the chargers for free and pays for the installation, while the recipient business arranges and oversees the installation.
"And now we can provide free power to our customers with EVs," says Hunt. "We've already planned for the installation of additional universal chargers as more and more people come to the winery in electric vehicles."
According to several searches for EV charging stations in the Finger Lakes on the Tesla website (www.tesla.com/destination-charging), PlugShare (www.plugshare.com), ChargePoint (www.chargepoint.com) and Solving EV (www.solvingev.com), Hunt Country Vineyards is the only winery on Keuka, Seneca and Cayuga lakes to have charging stations available to their customers.