Tofu & Veggies Stir Fry with Spicy Peanut Sauce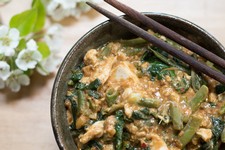 Measurements:
Imperial (US)
Ingredients
1/2 cup peanut butter, chunky
1/2 cup water
1 tbsp Hunt Country Cream Sherry
2 tbsps soy sauce
2 tbsps Thai red chile sauce
1 lb tofu, firm
2 tbsps coconut oil
3 large cloves of garlic, minced
2 tsps crushed red pepper
4 cups seasonal veggies, cut
Directions
1. Mix the first five ingredients together.
2. Cut tofu into squares and marinate in peanut butter mixture.
3. Heat coconut oil, and fry garlic and red pepper.
4. Using a slotted spoon, add tofu and sear on each side in coconut oil (5-10 min). Reserve extra sauce.
5. Add veggies. Stir fry mixture until done.
6. Add remaining peanut sauce.
Serve with a glass of Dolce di Moscato.