Suzanne's Acorn Squash and Ginger Soup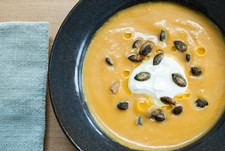 Measurements:
Imperial (US)
Ingredients
2 Acorn squash
5 tbsps butter, unsalted
4 tbsps maple syrup
2 tbsps ginger root, fresh, minced
1 1/2 cups whole milk
3 cups vegetable broth
1/3 cup Hunt Country Cream Sherry
salt, to taste
black pepper, to taste
sour cream
pepitas, roasted
Directions
Optional ingredients: truffle oil and minced chives.
1. Pre-heat oven to 375 F.
2. Cut Acorn Squash in half. Remove seeds, clean seeds, and set aside. Put squash halves in baking pan, open side up. Add a cup of water to the bottom ofthe pan. Put one tablespoon of butter and one tablespoon of maple syrup in each squash half. Cover with foil and bake for one hour.
3. Spread the squash seeds (pepitas) on a baking sheet. Sprinkle with salt and bake for about ten minutes, stirring often. Set aside.
4. In a large soup pot, sauté the minced ginger root in a tablespoon of butter.
5. When the squash is ready (flesh is soft and easily poked with a fork), scoop out of rind into the pot. Add vegetable broth and milk. Blend until smooth with an immersion blender. Heat thoroughly. Add Cream Sherry and season with salt and black pepper to taste while heating.
Serve with a dollop of sour cream and pepitas sprinkled on top. You can drizzle with truffle oil and add minced chives, too.
Serve with a glass of Semi-Dry Riesling, Dolce di Moscato, or Cream Sherry.