Joyce's Buckwheat Walnut Bars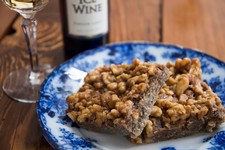 Measurements:
Imperial (US)
Ingredients
2/3 cup confectioners sugar
1 1/2 cups white flour
1/2 cup buckwheat flour
1/2 tsp salt
1/2 tsp cinnamon
1 cup butter (two sticks)
1/2 cup butter (one stick)
1 tsp vanilla
1/2 tsp cinnamon
1/2 cup buckwheat honey
1/2 cup cream or milk
1/2 cup brown sugar, packed
3 cups walnuts, coarsely chopped
Directions
Crust (first six ingredients)
1. Preheat oven to 350°F.
2. Grease a 9x12 baking pan.
3. Mix confectioners sugar, flour, buckwheat flour, salt and cinnamon.
4. Cut butter into the mixture with a fork or pastry blender. Mix until fine crumbs form.
5. Pat mixture into the baking pan.
6. Bake for 20 minutes, then remove from oven.
Topping (next seven ingredients)
7. Melt butter.
8. Mix in remaining ingredients.
9. Spread over the crust.
10. Bake for an additional 25 to 30 minutes.
Cool completely and serve with a glass of Vidal Blanc Ice Wine, Cream Sherry or Late Harvest Vignoles.