Hunt Country Butterscotch Bars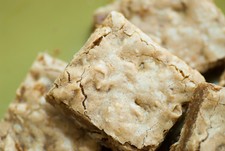 Measurements:
Imperial (US)
Ingredients
1/2 cup butter or margarine
2 cups brown sugar
2 eggs
1 tsp vanilla
2 cups all-purpose flour, sifted
2 tsps baking powder
1/4 tsp salt
1 cup coconut, shredded
1 cup walnuts, chopped
Directions
1. Pre-heat oven to 350 F.
2. In saucepan, combine butter and brown sugar. Cook over low heat till bubbly, stirring constantly. Cool.
3. Add eggs to cooled mixture, one at a time, beating well after each. Add vanilla.
4. Sift together flour, baking powder and salt. Add them along with coconut and nuts to brown sugar mixture. Mix thoroughly.
5. Spread batter in greased 15 1/2 x 10 1/2 x 1 inch pan. Bake in 350 F oven for about 25 minutes. Cut into bars while warm. Remove from pan when almost cool.
Makes around 24 squares.
Wonderful when served warm with a fine quality vanilla or butterscotch ice cream.
Serve with a glass of Cream Sherry.