Suzanne's Chocolate Mousse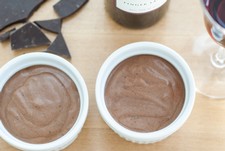 Measurements:
Imperial (US)
Ingredients
4 ozs dark chocolate
2 tbsps butter, unsalted
3 eggs, separated
1/4 cup sugar
1/2 cup heavy cream
1/2 tsp vanilla
2 tbsps Hunt Country Ruby Port
Directions
1. Melt together butter and chocolate in a small saucepan over low heat. Just before chocolate is finished melting, remove pan from heat and beat chocolate-butter mixture until smooth.
2. Pour the chocolate-butter mixture into a bowl and beat in the egg yolks. Then refrigerate.
3. Beat egg whites with half the sugar until they hold stiff peaks but are not dry. Then set aside.
4. Beat heavy cream with the remainder of the sugar and the vanilla until it holds soft peaks.
5. Remove chocolate mixture from refrigerator. Mix in the egg whites. Then mix in the cream. And, finally, mix in the Ruby Port.
6. Pour mixture into four small ramekins. Chill in refrigerator for several hours (overnight when possible).
Serve with homemade whipped cream and fruit (our favorite combination is strawberries and pomegranate seeds).
Homemade Whipped Cream: Beat 1/2 cup of heavy cream with sugar and vanilla (not much, just to taste), until stiff.
Serve with a glass of Ruby Port.