Rice Pudding with Tart Cherry Sauce and Caramel Whipped Cream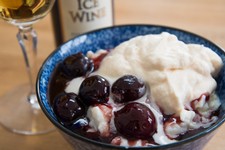 Measurements:
Imperial (US)
Ingredients
1 cup jasmine or any short-grained white rice
4 cups whole milk (4-5 cups)
3 tsps Vanilla extract
1 1/2 cups raw sugar
3 tbsps raw sugar (3-4 tbsp)
salt (to taste)
2 cups tart cherry juice
1 tbsp cornstarch (1-2 tbsp, depends on thickness desired)
1/2 lb pitted fresh or thawed frozen sweet cherries
2 1/4 cups heavy cream
1/4 cup Hunt Country Vineyards Ice Wine
Directions
1. Bring 1¼ cups of water to a boil in a medium saucepan. Add the rice and cook, stirring, for 3 minutes. Stir in the milk and bring to a boil. Cover and cook over low heat, stirring occasionally, until the liquid is absorbed and the rice is tender, 35-40 minutes. Remove the saucepan from the heat. Immediately stir in 3-4 tablespoons of the sugar, 2 tsp of vanilla and 2 pinches of salt. Let cool. Cover and refrigerate overnight.
2. In a medium saucepan, combine ¼ cup of the cherry juice with ½ cup of the sugar and bring to a boil over high heat. In a small bowl whisk the remaining 1¾ cups of cherry juice with the cornstarch and ¼ cup of Ice Wine and 1 tsp of vanilla extract and pour into the saucepan. Continue to cook over high heat, whisking, until the sauce turns clear, about 4 minutes. Stir in the cherries and keep the sauce warm.
3. In another medium saucepan, cook the remaining 1 cup of sugar over moderate heat, stirring, until a golden caramel forms, about 9 minutes; brush down the side of the pan with a wet pastry brush if crystals form. While whisking, slowly and carefully pour ¼ cup boiling water into the caramel. Remove from the heat and let cool.
4. In a medium bowl, using a hand mixer, beat 1¼ cups of the cream until soft peaks form. Using a spatula, fold the caramel into the whipped cream.
5. In a medium bowl, using a hand mixer, beat the remaining 1 cup of cream until firm peaks form, about 3 minutes. Fold the cream into the pudding and serve with the cherry and caramel sauces.
Serve with a glass of Vidal Blanc Ice Wine.