Joyce's Corn Chowder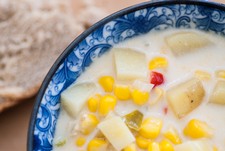 Measurements:
Imperial (US)
Ingredients
4 cups potatoes, diced
1 lb fresh or frozen corn (about 3 cups)
1/4 cup peppers, diced
1 medium onion, diced
1/2 cup celery, diced (or other crunchy veggies)
2 1/2 cups water
1 cup half & half
2 cups whole milk
1/4 tsp Cayenne pepper
1 1/2 tsps salt
1/2 tsp black pepper
3 tbsps Hunt Country Cream Sherry
Directions
1. Place first six ingredients in a pot. Cover tightly and bring to a boil. Reduce heat and simmer for 20 minutes or until vegetables are soft.
2. Add next six ingredients and simmer for an additional 20 minutes.
3. Add the Cream Sherry just before serving.
Chowder can be thickened, if desired, by mixing 1/4 cups flour with 1/3 cups water and creating a paste. Add to chowder. Heat and stir until thickened to desired to consistency.
Serve with a glass of Cream Sherry or Dolce di Moscato.