Harvest Festival Vegetarian Bean Soup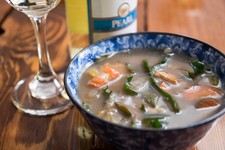 Measurements:
Imperial (US)
Ingredients
2 tbsps olive oil
1/2 lb tempeh, cut into 1/8 in x 1 in pieces
2 cups onions, diced
2 cups carrots, diced
2 celery stalks, diced
2 garlic gloves, minced
1 potato, diced
1/2 lb white beans, soaked
1/2 lb assorted beans, soaked
16 cups vegetable stock (1 gallon)
4 cups greens (kale, chard, beet greens, whatever is seasonally available), chiffonade
cumin (optional)
salt (to taste)
black pepper (to taste)
1/2 cup Hunt Country Pearl or Seyval
Directions
1. Soak beans overnight. Keep white beans separate from assorted beans.
2. Heat oil in large pot. Sauté tempeh until brown. Add onion, carrots, celery and garlic; begin to brown.
3. Add potatoes and stir into vegetables. Cover and sweat. Do not let the starches released from the potatoes begin to burn.
4. Preheat stock and then add to the large pot.
5. Add white beans and simmer.
6. In separate pot, simmer assorted beans. When soft, purée for thickness but allow some the beans to remain visible.
7. Add assorted bean purée to large pot and continue to simmer.
8. Add greens to large part just before ready to serve so they wilt and become tender.
9. Add wine. Salt and pepper to taste.
Serve and enjoy with a glass of Pearl or Chardonnay (or Classic Red if you prefer reds).