Farmhouse Stuffed Pork Tenderloin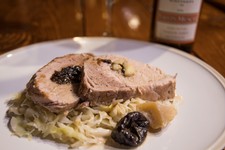 Measurements:
Imperial (US)
Ingredients
3 lbs pork tenderloin
15 prunes, pitted
1 apple, peeled and cut into 1-inch cubes
3/4 cup heavy cream
3/4 cup Hunt Country Valvin Muscat
butter
salt
black pepper
1 cabbage
heavy cream
butter
salt
black pepper
nutmeg
Directions
1. Preheat oven to 350° F

2. Over medium heat, melt the butter in a cast iron pot (with a lid) large enough to easily fit the roast. Brown the roast in the butter, turning on all sides. This should take 1 or 2 minutes on each side. Remove the roast from the pot and let it cool for several minutes.

3. In the meantime, pour the wine into the pot and then the heavy cream. Whisk while bringing them to a simmer. Continue simmering, stirring occasionally until the sauce is slightly thickened. Add a bit more cream and wine if it reduces too much.

4. Stuff the pork while the sauce is simmering. Using the handle of a long wooden spoon, poke through the center of the roast from one end to other. Stuff with apples and prunes, one at a time and alternating between apple and prune. Use the spoon handle to push fruit to the middle of the roast; work from both ends.

5. Once the pork is stuffed, put it into the pot with the sauce. Put any extra apples and prunes into the pot as well. Place the lid on the pot and place in the preheated oven. Cook for 1 to 1 1/2 hours. (The amount of time needed will vary quite a bit depending on the thickness of the tenderloin.) Baste occasionally and check to make sure that the sauce does not dry out; add more wine if needed. When finished, the roast should be nice and tender.

6. Place the finished roast on a platter and keep warm.

7. Add salt and pepper (to taste) to the sauce.

8. Slice the pork roast into inch-thick slices. Ladle sauce over the slices to serve.
9. Add currant or lingonberry jelly on top if desired.

Side Dish: Creamed Cabbage
1. Wash and thin slice the cabbage.
2. Over medium heat, melt some butter in a cast iron pan or pot large enough to hold all the cabbage. Add the cabbage and sauté. Do not let the cabbage brown.
3. When the cabbage is tender, add cream to taste and continue cooking over low to medium heat until cream is slightly thick.
4. Salt liberally (to taste). And add a dusting of nutmeg if you're so inclined.
Serve pork and cabbage with a glass of Valvin Muscat. Absolutely wonderful!