Farmhouse Quiche with Garden Vegetables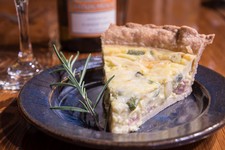 Measurements:
Imperial (US)
Ingredients
1 pie shell, 9 inches
1 1/2 cups milk
3 eggs
1/3 cup sour cream
2 tbsps flour
1/4 tsp salt
1/8 tsp white pepper
1/2 cup asparagus, chopped
1/2 cup green onions, chopped
1 cup ham, cubbed
1/4 cup chives, chopped
1/2 cup smoked Gouda cheese, grated
1/2 cup Cheddar cheese, grated
Directions
1. Preheat oven to 375°F.
2. Prepare pie shell: Brush thoroughly with egg white.
3. Scald milk and let cool. Then mix scalded milk with eggs, sour cream, flour, salt and white pepper.
4. Brown asparagus and onion in butter. Then add ham; brown and stir for about 2 minutes.
5. Put ham and browned vegetables, chives, and grated cheeses in the bottom of the pie shell. Pour egg mixture into the pie shell. Bake for 35-45 minutes.
If served for breakfast, enjoy with a mimosa made with Chadonnay Champagne and fruit juice. If served for dinner, enjoy with a glass of Valvin Muscat or Pearl.