Farmhouse Chicken Noodle Casserole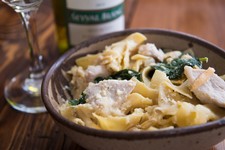 Measurements:
Imperial (US)
Ingredients
12 ozs wide egg noodles
1 onion, medium, chopped
1 tbsp butter
1 garlic clove, large, finely chopped
1 tbsp oregano, dried
1 tbsp basil, dried
1/4 tsp ground nutmeg
15 ozs ricotta
1 cup chicken broth
1 tsp salt
1/2 cup Hunt Country Seyval Blanc
1/2 tsp black pepper
12 ozs chicken breast, cooked, torn into 2 in x 1/2 in pieces
1/2 lb spinach or baby kale (if fresh, blanch first; if frozen, thaw and squeeze dry)
1/2 cup Muenster or Colby cheese, grated
Directions
1. Cook noodles according to directions on package. Drain.
2. Heat oven to 375°F. Grease 12 x 7 x 2 inch baking dish.
3. Sauté onion in butter in medium-sized saucepan over medium heat until softened (about 3 minutes). Stir in garlic, oregano, basil and nutmeg. Sauté for 1 minute. Remove saucepan from heat.
4. Stir in ricotta until well-blended.
5. Stir in broth, wine, salt and pepper.
6. Stir in chicken.
7. In a large bowl, combine cooked noodles, chicken mixture, spinach or kale, and all but 2 tablespoons of the cheese.
8. Pour combined ingredients into baking dish, spread evenly. Cover with foil.
9. Bake for 15 minutes.
10. Remove foil and sprinkle remaining cheese on casserole. Bake uncovered for an additional 20 minutes.
Serve and enjoy with a glass of Seyval Blanc or Semi-Dry Riesling.