Curried Ground Beef with Rice Noodles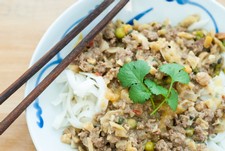 Measurements:
Imperial (US)
Ingredients
8 garlic cloves
1/2 onion, chopped
1 poblano pepper, chopped
2 tbsps canola oil
1 lb ground beef
1 cabbage, thinly sliced
1/2 tsp red pepper flakes
4 tbsps curry paste (your preferred taste)
1 cup coconut milk
1/4 cup heavy cream
1/4 cup beef bouillon
3/4 cup Hunt Country Chardonnay or Seyval Blanc
1/2 cup peanuts
1/2 cup peas
1/8 cup cilantro, chopped
salt
black pepper
Directions
1. Put garlic, onion and poblano peppers into bowl, and set aside for later.
2. Put oil in wok and heat. Add onions, garlic, pepper flakes, peppers and a pinch of salt. Sauté until tender.
3. Add ground beef and a little black pepper. Cook until beef is about half done.
4. Add cabbage. Cook until meat is browned and cabbage is tender.
5. Add curry paste and cook for 2-3 minutes.
6. Add heavy cream, bouillon and wine. Bring to boil, then reduce heat and simmer for 30 minutes to allow mixture to thicken.
7. Add peas and cilantro. Simmer for an additional 5 minutes.
Rice noodles tend to cook quickly. Start them as the curried beef is close to completion.
Serve curried beef immediately over rice noodles and with a glass of Seyval Blanc or Vignoles.