The Hunt Country Team
Our team comprises 8 full-time and about 30 seasonal/part-time people. Our friendly staff greets about 40,000 visitors annually.
---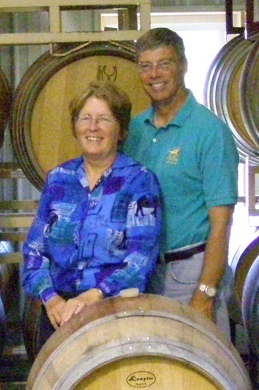 Art and Joyce Hunt
Founders & Owners

Art and Joyce Hunt, founders and owners of Hunt Country Vineyards, first met in high school in Corning, New York. After graduating from Syracuse University in 1971, Joyce began her career as a social worker. Art received his BS in Management from Virginia Tech the same year. He started selling insurance, but was "saved" by the flood of 1972: HUD needed people to help victims get settled in temporary housing.
In 1973, Art and Joyce moved to the 170-acre farm of Art's grandfather in Branchport. The farm's proximity to Keuka Lake and soil were extremely promising for growing superior wine grapes. They planted about 50 acres of premium varieties for eventual sale to wine producers. It took a few years for the vines to mature and yield wine-quality fruit. Then Coca-Cola Company purchased Taylor/Great Western Wine Company and moved all operations to California. The market for wine grapes collapsed, bankrupting many growers. Art and Joyce evaluated the idea of a small farm winery and in 1981 launched Finger Lakes Wine Cellars, which they guided from a small proprietorship to incorporation in 1985. In the fall of 1987, they formed Hunt Country Vineyards, with the logo combining Art's family name and Joyce's love of horses.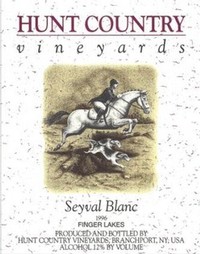 Art handles regulatory, fiscal and legal issues for the business, and maintains an active schedule in front of the public at festivals and tastings. He enjoys working with his hands, and around the farm, there is never a lack of things to fix! He is an active member of the Branchport–Keuka Park Volunteer Fire Department, and though rarely has the time, loves to sail with family and friends.
Joyce is extremely active in the business, in strategic analysis, designing and planning of (and even cooking for!) major events, banking and public relations. She was appointed by Gov. Cuomo in 1987 to the Finger Lakes Regional Economic Development Council. She is a founding member and past president of the Keuka Lake Wine Trail, and serves in several other local organizations. She divides her free time among riding, walking and reading.
Art and Joyce are recipients of the 1999 Unity Award of the New York Wine & Grape Foundation for major achievements in promoting unity in the industry.
Their three children are all happily pursuing their interests and passions. Carolyn is an attorney specializing in employment and human rights law. Suzanne is the President of HuntGreen LLC and Senior Advisor to the Carbon War Room leading their Renewable Fuels Operation. Jonathan, after graduating from Cornell and internships in wineries in California and New Zealand, became our Director of Winemaking, making him the sixth Hunt generation to till the farm's soil.
---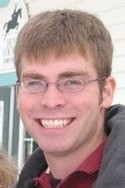 Jonathan Hunt
Owner & Director of Winemaking
Jonathan is an alumnus of SUNY Cobleskill and Cornell University, with degrees in agricultural business and horticulture. After college, Jonathan interned at St. Francis Winery & Vineyards in Sonoma County, California and at Delegat's Wine Estate in Auckland, New Zealand.
Jonathan and his wife Caroline started Italy Hill Produce at the family farm in 2009 and expanded it in 2010 to include sales at the Canandaigua Farmers Market and a weekly email newsletter. They obtained their organic certification in 2011.
Jonathan enjoys almost every aspect of the outdoors including hiking with his wife and their two dogs, farming, volleyball and pretty much anything that involves not sitting at a desk. One of Jonathan's hobbies involves occasionally drag racing in the East Coast Impala Racing Series. He enjoys working on cars and any sort of driving challenge. Jonathan is also a volunteer firefighter with the Branchport-Keuka Park FD, with over 10 years experience, and is certified in interior attack, advanced interior attack, ice water rescue, auto extrication, EVOC, and pump operation. In addition to firefighting, Jonathan serves on the Board of Directors for Yates County Cornell Cooperative Extension.
---
Caroline graduated from Cornell University in 2003 and 2008, with a B.S. in Plant Science and an M.S. in Entomology, respectively. Her research focus has been on biological control in both horticultural and vegetable crops. She spent much of her younger years in Oregon, where her parents currently have a certified organic farm, where she developed her interest in agriculture and whole farm systems.
She loves to hike, garden and travel, and along with her husband and father-in-law, is a firefighter with the Branchport-Keuka Park Fire Department and is certified in interior attack. Caroline also serves on several boards, including the Town of Italy Planning and Zoning Board. She and Jon have a son William and daughter Mellie
---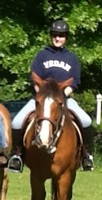 Andy Marshall
Operations Manager
Andy was raised in Upstate New York, living in a variety of towns over the years; most recently, and for the longest, in Penn Yan. A 2005 graduate of Keuka College, he holds a B.S. in Business Management (summa cum laude) with a minor in Computer Technologies. Hired by Hunt Country Vineyards in early 2006, Andy said, "This was my first job out of college and I thought it'd be for a year or two, but ten years later I'm still loving the winery and can't imagine working anywhere else!"
Andy is a vegan and life-long animal lover. He is a diehard fan of NCIS and an avid reader – with an impressive library of more than 3000 books! – and also enjoys music, hiking, horseback riding, and football (soccer to most Americans).
---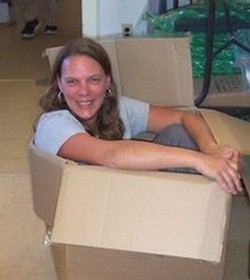 Tessa Olsen
Retail & Special Projects Manager
Tessa joined Hunt Country in 2012. She particularly enjoys being able to use her artistic skills and talents in her job.
In 2011, she, her husband Zac and their two boys moved to Branchport from the tiny island of Cuttyhunk off the coast of Massachusetts. They started their family there over 10 years ago and are happily easing into life on 'the mainland'.
Tessa is a graduate of The School of the Museum of Fine Arts, Boston. In her 'spare' time she can be found mostly with her kids and family, gardening, making jewelry and bottle art, fishing, cooking, picking flowers, tending to their new flock of chickens, and helping Zac with the ongoing project of building their home.
---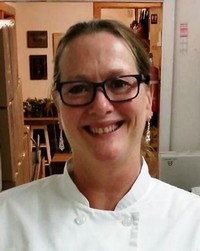 Mary Campbell
Chef, The Café at Hunt Country
In Mary's early culinary career, she was a Restaurant and Catering Manager at Marriott International, where she specialized in launching the kitchens of new properties. She then owned and operated a wonderful café, Medley's, in our area for 20 years. There she developed a wide following for incorporating our region's many fresh, locally grown and organic foods in her menus.
Mary is passionate about creating delicious and healthy food choices, and designing menus that "tantalize the taste buds"! She currently teaches Culinary Arts at BOCES in addition to heading the kitchen at Hunt Country. She is known throughout the region for her creativity, energy and infectious personality.