Environmental Stewardship
at Hunt Country
Generations of our family have had to deal with the threats of the day ranging from the Great Depression to the World Wars to the grape market crash in the 1970's. Today the greatest threats we face include the proposed expansion of fossil fuel extraction and distribution infrastructure in our region, the changing climate, and the changing marketplace.
Sustainability is a constant process of experimentation, innovation, and improvement. We have a comprehensive approach to sustainability. We strive to put carbon back into the soil, keep it out of the atmosphere, and to generate positive impacts in the local community and economy. Some of our specific efforts include:
---

Energy Overview
In 2012, a comprehensive energy efficiency audit by a local engineering firm concluded that we could only make minor improvements since we had already super-insulated all of the production, storage and retail buildings and had installed efficient lighting. Eight years ago we installed a small, experimental vertical wind generator and hope to replace it with a more effective turbine in the future. Three years ago we installed a large geothermal heating/cooling system that eliminated all of our heating oil needs and all of our propane use for heating. In August 2015 we installed 348 solar panels to supply the majority of our electricity.
We have worked collaboratively for a number of years with other businesses and community organizations to understand and then prevent the potential impacts of the fossil fuel industry. We recognized that it will take more than just a few businesses switching to renewables to demonstrate that we don't need or want more fossil fuel development in this region so we have been talking with dozens of other wineries, the local banks, community associations, and many other key regional actors to help catalyze a renewable energy movement across the wine industry and the whole Finger Lakes region.
---
Finger Lakes Wineries receive national Solar Champion Award
Three of the region's most respected, multi-generational wineries, along with the nation's oldest sacramental winery, are leading the solar movement in the Finger Lakes. Hunt Country Vineyards, Dr. Frank Vinifera Wine Cellars, O-Neh-Da and Eagle Crest Vineyards, and Wagner Vineyards are working together to install the first large-scale solar power systems that, all together, will generate nearly half a megawatt of solar energy -- equivalent to powering hundreds of homes.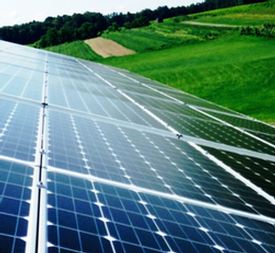 In recognition of this iniative, the Solar Energy Industries Association (SEIA) presented its prestigious national Solar Champion Award to the Finger Lakes Region. This honor is "bestowed upon entities or individuals who have helped strengthen solar power in America."
The first installation of 109KW at Hunt Country Vineyards was completed over the summer, followed by 51KW at Dr. Frank's Vinifera Wine Cellars. A 250KW system at Wagner Vineyards and 62KW at O-Neh-Da are in progress. The project will result in the removal of about 460 tons of CO2 emissions each year for the life of the solar systems, the equivalent of planting nearly 200 acres of trees or eliminating about 35 million vehicle miles.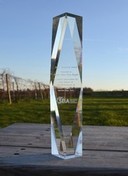 Suzanne Hunt, President of Hunt Green LLC, a sustainability and energy advisory firm, and daughter of Art and Joyce Hunt, initiated the collaboration. Hunt pulled together colleagues in government, finance, and industry from around the state to make this dramatic shift as easy as possible for the wineries.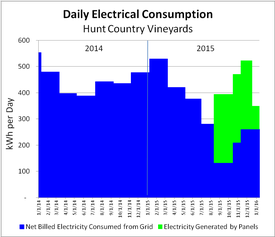 While each winery has very different energy needs, they all share the same connection to the land as grape growers and vision for the future of the Finger Lakes. Each winery involved emphasizes its focus on sustainability – socially, environmentally, and economically. The project is not only benefiting the environment and the bottom line, it is also supporting local construction firms and electrical contractors with an estimated 5,000 man-hours for the installations, and is using American-made photovoltaic solar panels and ancillary equipment.
---

Geothermal Heating/Cooling System wins 2015 TOP JOB Award
Hunt Country Vineyards and contractor Moravec Geothermal received the New York Geothermal Energy Organization's 2015 TOP JOB award for our "innovative and impressive geothermal heating and cooling system." Gov. Andrew Cuomo and Sen. Kirsten Gillibrand were among those congratulating Hunt Country founders and owners Art and Joyce Hunt.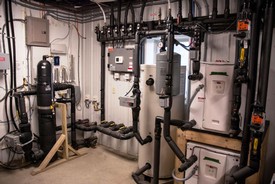 This exciting sustainability project at Hunt Country began with the drilling of eight 375-ft-deep wells in the area outside the main Wine Shop windows. Our conventional A/C and heating in the tasting room, winery and warehouses was replaced by this system. A mixture of water and alcohol is circulated through these buildings and wells where the earth's natural 55-degree temperature cools or warms the liquid and a system of heat pumps brings the buildings to a more comfortable temperature.
The geothermal process is about 400% more efficient than burning fuel oil and propane to heat or cool our buildings, because we are mainly moving heat from one place to another.
---

Major Carbon Footprint Reductions
A range of projects implemented since 2007 have substantially reduced Hunt Country's carbon footprint from energy consumption:
moving the winery from our 1880s barn to an expanded building with high R-factor
moving wines into a newly insulated warehouse
re-insulating sections of other buildings
replacement of lighting with the latest low-consumption technology
installation of a geothermal heating and cooling system
installation of a 109 kW solar array (across 3 buildings)
We have eliminated the use of fuel oil, nearly eliminated the use of propane and reduced the use of diesel. Our energy costs have declined by 30% and carbon footprint by more than 45%. We are anticipating further CO2 reductions in 2016.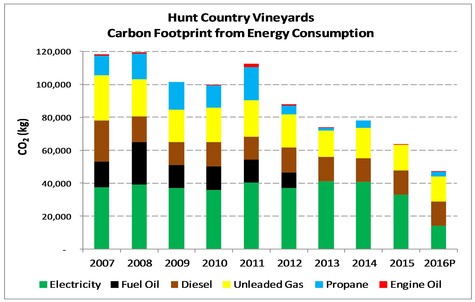 ---

Sourcing Locally reduces Food-Miles
In 2011, we began tracing the origin of the many food products we sell in our Wine Shop. Among the discoveries was a top-selling cracker that was actually produced in Hong Kong!
Since then, we have been replacing those items with delicious regionally-produced foods and beverages that not only reduce our environmental footprint but also help support the local economy. In 2012 we named this section of our Wine Shop the "Locavore Room", to recognize the amazing bounty of local foods and beverages in the Finger Lakes.
| | 2011 | 2012 | 2013 | 2014 | 2015 |
| --- | --- | --- | --- | --- | --- |
| Average Food-Miles | 614.3 | 286.4 | 121.8 | 121.1 | 121.9 |
| Change from Prev. Year | | -53% | -57% | -1% | +1% |
We are working to reduce this number further, and have begun to measure and reduce the "food-miles" of our wines. The greatest challenge in the case of wines is to source bottles that are manufactured closer to home.



 

Top of Page

 



---

Managing the Grapes & Soil
We do not use any synthetic fertilizers, only organic approved soil amendments including poultry manure, compost and mulch. Jonathan Hunt manages the on-farm composting operation that has grown substantially in recent years. It is a collaboration between Italy Hill Produce, the Town of Jerusalem and Hunt Country Vineyards that strives to improve soil, vine and human health via soil fertility through composting.
Various feed stocks, including
all of the grape pomace from the pressing facility, leaf and yard waste from the town
vegetable waste from the farm, wood chips from local tree companies, and
various livestock manures
are mixed and actively composted to produce a balanced nutrient and carbon rich soil amendment. Compost is a fantastic way to improve soil tilth, water holding capacity, water absorption rates, nutrient cycling and availability. It is also an efficient means of stabilizing carbon that was sequestered by the plants during their life cycle and incorporating carbon in the soil.
We are also in year two of the three-year process to transition one block of our grapes, which includes three varieties, to be fully certified organic.



 

Top of Page
---
Opposing Large Scale Gas Storage at Seneca Lake
A Houston-based energy company, Crestwood Midstream Partners LP, wants to store millions of barrels of pressurized gas in former salt mines along Seneca Lake. Environmental activists, 28 municipalities, 335 businesses, including wineries and others, are concerned about the risks to safety and the environment: fears over explosion, increased lake salinity, danger of transport of propane gas. (For more information, see Seneca Lake gas storage: safety, environment concerns by Tom Wilber, twilber@gannett.com.) The company, some regulators and others say the risks are unfounded.
According to Mr. Wilber, an administrative law judge of the [NYS] Department of Environmental Conservation administrative law judge will next "rule whether the issue needs more review. Eventually, Acting DEC Commissioner Basil Seggos will likely decide. If he approves, the Town of Reading board would need to approve or deny a local permit. Lawsuits could result."
Art and Joyce Hunt are founding members of the Finger Lakes Wine Business Coalition (FLXWBC). Among other things, the FLXWBC supports the efforts of We are Seneca Lake and Gas Free Seneca to oppose the storage of liquified natural gas around Seneca Lake. Art recently wrote to Governor Andrew Cuomo:
"When we formed the Finger Lakes Wine Business Coalition, we didn't just want to be against Crestwood ... Our mission statement is: 'To lead Upstate economic development through wine-driven agritourism and sustainable business practices ...' Our goal is to work with you in promoting and protecting the Finger Lakes and New York.
"The Finger Lakes is blessed with abundant clean water, clean air and fertile land... New York can become a leader and an example of sound environmental policy. Crestwood has no place in our future ... They purposely chose the most dangerous type of gas storage in our salt caverns because it is the least costly to them.
"For the sake of my children, grandchildren and our seventh generation family farm, please do not let a Texas company spoil our beloved Finger Lakes by giving Crestwood a permit to store liquefied natural gas in the crumbling salt caverns of Seneca Lake."