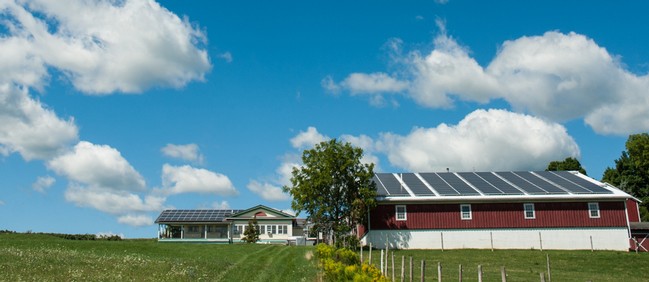 Our efforts to take real responsibility for the energy we use as a farm started back in 2007 when we installed a small, experimental vertical wind turbine. The plan was to start producing the power we need to run our operations. Although the turbine itself didn't quite work out, it was the beginning of an incredible journey to becoming more self-sufficient in our fulfilling our energy needs.
Since 2007 we have made a determined effort to reduce our energy consumption by super-insulating all of the production, storage, and retail buildings, and installing efficient lighting throughout our facilities.
In 2012, we installed a large, eight-well geothermal heating/cooling system that has eliminated need to use oil and propane for heating our buildings.
Then in August 2015, we installed a 348-panel solar system that - depending on the weather and time of year - provides 75% or more of our electricity. Along with three other highly respected wineries in the region - Dr. Frank Vinifera Wine Cellars, O-Neh-Dah and Eagle Crest Vineyards, and Wagner Vineyards - we are helping lead the way to embracing solar energy production in the Finger Lakes of New York.
We have received several awards for our systems and efforts:
2015 Solar Champion Award from the Solar Energy Industries Association (shared with Dr. Frank Vinifera Wine Cellars, O-Neh-Dah and Eagle Crest Vineyards, and Wagner Vineyards)
2015 TOP JOB Award from the New York Geothermal Energy Organization (shared with Moravec Geothermal)