27th Annual Hunt Country Harvest Festival
Sat., Oct. 1, 2016 -- 10 a.m. to 6 p.m.
Sun., Oct. 2, 2016 -- 11 a.m. to 5 p.m.
Hunt Country Vineyards, 4021 Italy Hill Road, Branchport, NY 14418 (Keuka Lake)
Free Admission
No Reservations Necessary
Plenty of Free Parking
Families Welcome
The perfect autumn weekend getaway!
The sweet feeling of grapes squishing between your toes. Wind in your hair and straw poking your rear end: it's a haywagon ride through our vineyards. Great food lovingly made with the best local ingredients spread across a picnic table, or under the big tent, with live music treating your ears. Enjoy a Cellar Workshop with our winemaking team, Jon Hunt and Brian Barry inside the winery. They'll answer all the questions you've been dying to ask.
F E S T I V A L D E T A I L S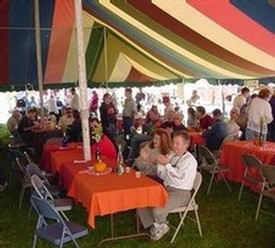 Delicious food from a variety of wonderful food purveyors
Tasty wines, drinks & snacks from Hunt Country Vineyards
Hunt Country Vineyards wine-by-the glass ($5)
Grape Spritzers ($1)
Hot coffee, tea & hot chocolate ($1)
Bottled water ($1)
Organic & fresh popcorn from Italy Hill Produce ($2)
Grape Stomping
($2 entry per person)
Saturday 11:00am-12:00pm, 1:00pm-2:00pm, and 3:00pm-4:00pm
Sunday 12:00pm-1:00pm and 2:00pm-3:00pm
Pumpkin Decorating for Kids
($2 per pumpkin)
Saturday 11:00 to 4:00
Sunday 11:00 to 4:00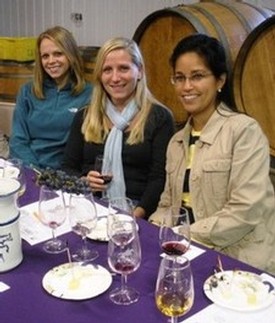 Hay-wagon rides through the vineyards
(Adults $3; Children <12 $1, Infants free)
Saturday 11:00 to 4:00
Sunday 12:00 to 4:00
Cellar Winetasting Workshop with our winemaking team Jonathan Hunt and Brian Barry (seating limited to 20 per session, 45-60 minutes, $7 per person)
Saturday 12:30, 2:30
Sunday 12:30, 2:30
Tour of our Winemaking Facilities & Sustainability Initiatives -- free -- every hour on the hour; 30 min. duration:
Saturday - starts at 11:00; last tour leaves at 5:00
Sunday - starts at 12:00; last tour leaves at 4:00
What you'll see and learn:

the basics of making wine
upclose view of the equipment and facilities used
our Solar and Geothermal energy installations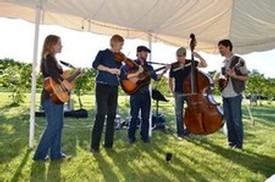 Official release of new vintages for tasting & sale (to be announced)
Standard wine tasting -- free
Live Music
Saturday, 12-4pm, North Star String Band
Sunday, 1-4pm, John Beck and Friends
Fine craftpeople and talented artists exhibiting their products and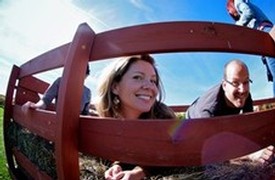 works
Food and wine can be purchased at the event. Relax at a picnic table or under the big tent and enjoy a glass of award-winning wine, great food and live music. Don't miss the festivities!