FOR IMMEDIATE RELEASE
Contact: Jim Alsina, Hunt Country Vineyards, Jim@HuntWines.com, 800.946.3289 / 315.595.2812
Green Inaugural Ball chooses Hunt Country Vineyards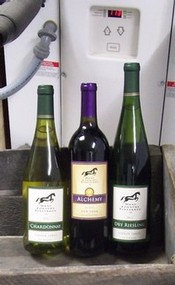 Three wines from Hunt Country Vineyards on Keuka Lake will be served at the upcoming Green Inaugural Ball in Washington, DC, in recognition of the winery's environmental stewardship efforts. The Ball, hosted by the clean technology, conservation and environmental communities, will honor President Obama at the Newseum on January 20th.
Hunt Country's Dry Riesling, Chardonnay and Alchemy – a blend of Cabernet Franc, Cabernet Sauvignon, Noiret and Merlot -- will be served in the Ball's VIP rooms. Said Art Hunt, co-owner of Hunt Country Vineyards, "Passionate as we are about renewable energy and sustainability, we are thrilled to be a part of this prestigious event."
The Ball's Steering Committee chose Hunt Country for their efforts to produce quality wines sustainably. The winery has incorporated a geothermal heating/cooling system in their operation which drastically reduces fossil fuel use. A wind turbine generates electricity for their tasting room, and a composting operation converts grapes skins, stems and seeds into high-quality fertilizer which is spread back into the vineyards. Art Hunt has also contributed substantially to the ongoing debate on hydraulic fracturing and its implications for the Finger Lakes wine region.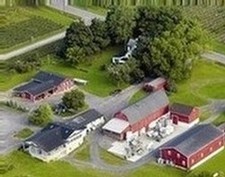 Hunt Country Vineyards, a sixth-generation family farm and winery in the heart of the New York's Finger Lakes region, has been producing 100% New York wines using sustainable agricultural practices since 1981. The winery first achieved recognition as the pioneer producer of genuine ice wine in the United States. Their wines have been served at the United Nations and featured on NBC's Today Show. Hunt Country Vineyards encompasses 50 acres of cool-climate grapes that are crafted into classic vinifera varietals, such as Cabernet Franc, Chardonnay and Riesling, as well as several delicious and distinctive contemporary wines, such as Alchemy, Dolce di Moscato and Pearl.
Hunt Country Vineyards: http://www.HuntWines.com/sustainability
Green Inaugural Ball: https://www.nwf.org/2013-Green-Inaugural-Ball.aspx
Filed: 1-16-2013