Cheesemaking Workshop
with Dr. Craig Hohm
Date & Time:
PART 1: Saturday, March 11, 2023 from 10am to 4pm
PART 2: Saturday, May 13, 2023 at 2pm (Cheese aged and ready for pick-up)
Location:
Hunt Country Vineyards, 4021 Italy Hill Road, Branchport, NY 14418
Registration Fee:
$100 per participant, includes housemade noshes & wine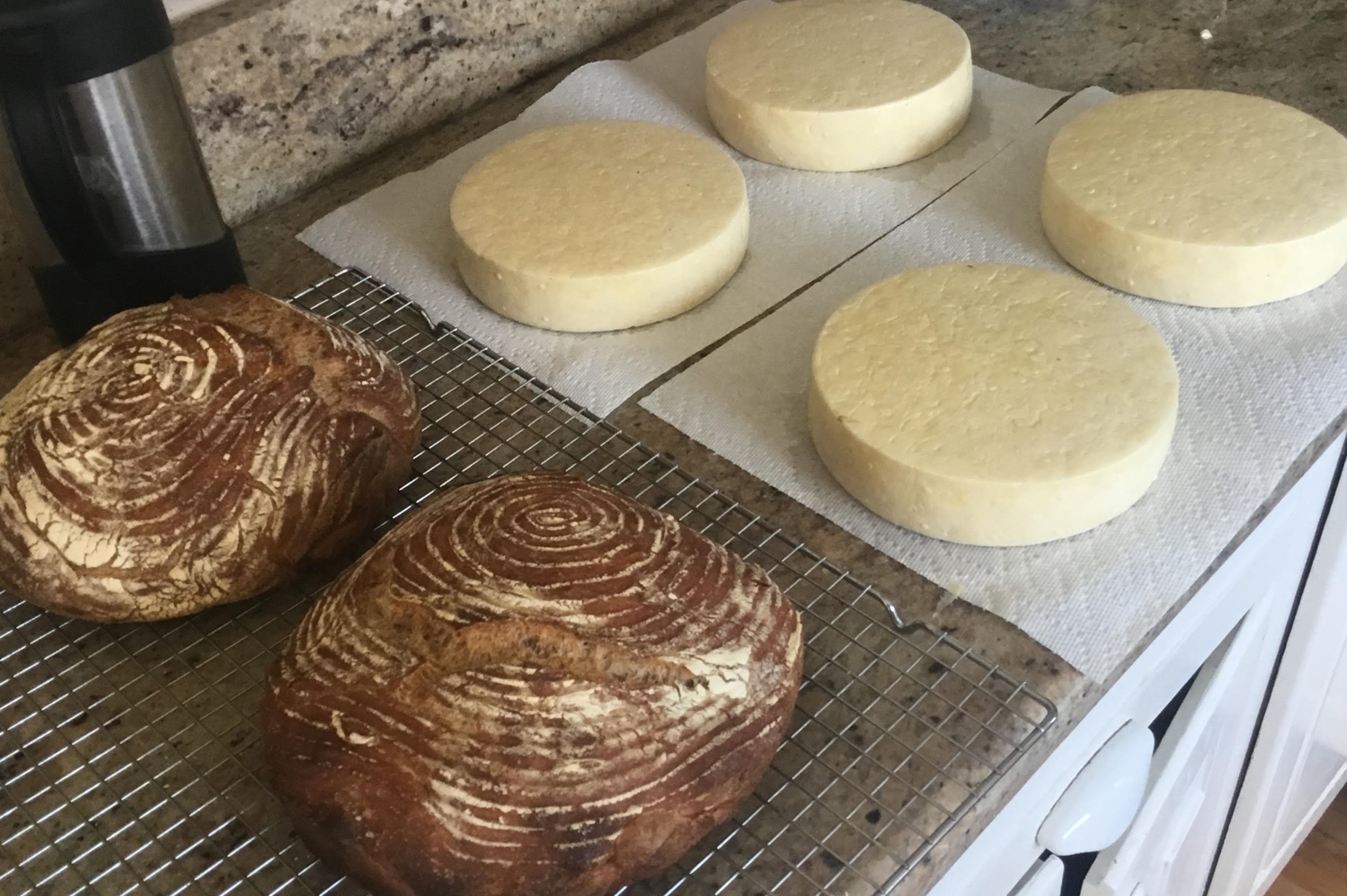 Craig Hohm, a retired doctor, boatbuilder, musician... And lucky for us, a special local friend. His interest in arcane skills and living close to the source, lends so well to the skills needed to craft some of his fermented favorites like bread, cheese, mead, and of course wine. For this workshop, Hunt Country has the wines covered, but Craig will lead a small group through the hands-on process of making cheese.
Workshop Oveview:
Participants do not need to have any prior experience with fermentation, cheesemaking, or cooking. Just some interest and enthusiasm to learn something new and fun on a winter day at Hunt Country Vineyards. Warm and cozy in our kitchen with breaks for beautiful vineyard scenery and yummy housemade nibbles.
Craig will lead about six participants through the process of warming milk, inoculating with culture, and setting the curd to create a farmstead Tomme style cheese. This cheese is made with a minimum of equipment that we will provided. When the process is complete the curds are placed in molds and brined. This will conclude the lesson for that day. The cheese will need to age for two months in Craig Hohm's care.
Books: Recomended, NOT required.
~ Home Cheese Making by Ricki Caroll
~ Mastering Artisan Cheesemaking: The Ultimate Guide for Home-Scale and Market Producers by Gianaclis Caldwell
Participants are encouraged to bring any cheesemaking books or publications that interest them, and not to feel bad if they don't.
Workshop Follow Up on May 13, 2023 at 2pm:
Participants will meet again to divy up the finished product, and taste the homemade cheese with a glass of Hunt Country wine and a re-visit with new friends.
Food & Libations:
Part 1 on March 11th:
~ Craig will provide a finished sample of the aged Tomme cheese to taste during the workshop.
~ A farm-to-table lunch by the Hunt Country Kitchen will be provided. Food restricitions considered.
~ An end of day glass of wine will be included with lite happy hour snacks.
Part 2 on May 13th:
~ A glass of wine will be included to enjoy with the sampling of your finished cheese.
Additional wines, local beer, kombucha, and other NA beverages are available for purchase as well.