Riesling Shrimp Tarragon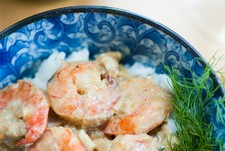 Measurements:
Imperial (US)
Ingredients
1 tbsp butter
1 garlic clove
2 tbsps onion, chopped
1 1/2 cups shrimp
1/4 tsp Tarragon, fresh or dried
salt, to taste
black pepper, to taste
1/3 cup Hunt Country Dry or Semi-Dry Riesling
1/3 cup half & half
Directions
1. Melt butter and brown garlic and onion.
2. Add shrimp and cook over low heat for 5 minutes.
3. Add Riesling and seasonings. Heat until wine is reduced.
4. Add half & half and heat through.
5. Serve with rice.
Use Seafood Watch to help choose seafood that's fished or farmed in ways that have less impact on the environment. Get the app for iOS or Android.
Serve with a glass of Dry Riesling or Semi-Dry Riesling