Holiday Bundle #2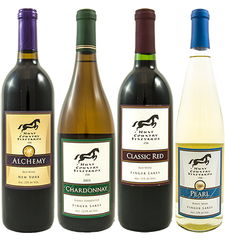 Alchemy: This phenomenal dry red wine is the closest thing we've found to a universal cure and we hope you enjoy it as much as we do! With black cherry notes, firm oak flavors and hints of pepper, Alchemy creates culinary magic with hearty meat dishes, rich cheeses and tomato-based Italian cuisine.
Chardonnay: A personal favorite of owner Joyce Hunt, our 100% Finger Lakes Chardonnay exhibits delicate fruit flavors and soft vanilla and buttery notes. Enjoy it chilled with cheeses, shellfish, chicken, and pasta with pesto, butter- or cream-based sauces.
Classic Red: A dry red wine with subtle oak barrel again and hints of cherries and plums, our Classic Red is a great everyday wine. It's a wonderful partner for pasta with tomato sauces, pizza, sharp cheeses, and hearty soups and stews.
Pearl: One of our signature wines, this blend of Chardonnay, Cayuga and Vidal grapes is creamy, smooth and well-balanced with just a touch of sweetness. Pearl will fill your senses with the fragrance of rich butter, fresh apples and lemon. It partners wonderfully with plates of soft cheeses and light fruits, as well as puff pastries filled with brie and apples or figs.