Joyce's Tangy Sauce and Glaze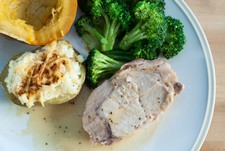 Measurements:
Imperial (US)
Ingredients
1/2 cup light brown sugar, packed
3/4 cup tangy mustard
1 tbsp honey (or maple syrup)
1/3 cup Hunt Country Semi-Dry Riesling or Cayuga White
1/2 tsp ginger, ground
1/2 tsp salt
1/2 tsp black pepper
Directions
1. Mix together all ingredients together. Use a blender for a speedy mix.
2. Heat mixed ingredient in a pan until bubbly.
3. If using as a glaze, put on meat 1/2 hour before serving.
4. If using as a sauce, put on meat or tofu just before serving, long enough to heat up.
This sauce/glaze is excellent with pork, chicken, or tofu.
Serve with a glass of Semi-Dry Riesling or Cayuga White.