Hunt Country shrinks
Carbon Footprint by 40%
As the sixth generation of the Hunt family on our 170-acre farm, we plan and manage our farming practices, wine production and retailing operations with a long view toward sustaining and improving the land for the future.
Energy Consumption
In 2007, as we finalized plans to move wine production to a modern building, we wondered if it would be possible to cut our business's carbon footprint from fuel consumption in half within 10 years.
A range of projects implemented since 2007, financed partly by loans, partly by grants, have substantially reduced Hunt Country's carbon footprint:
moving the wine production from our 1880s barn to an expanded building with extremely efficient insulation
installation of a geothermal heating and cooling system for wine production, the warehouse and Wine Shop
installation of a wind turbine to generate electricity for our Wine Shop
replacement of lighting with the latest low-consumption technology
thorough re-insulation of doors, walls, ceilings, openings, chiller piping, hot water heaters
As a result, we have:
Cut annual consumption of fuels by 5500 gallons (about 60% reduction).
Shrunk our total Carbon Footprint for energy (including electricity) by more than 40%.
Reduced annual expenditure for energy by 1/3.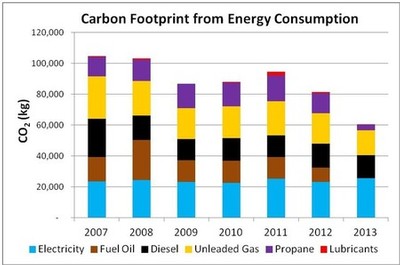 Our geothermal heating/cooling project began with the drilling of eight 375-ft-deep wells in the area outside our main Wine Shop windows. Conventional A/C and heating in our Wine Shop, winery and warehouse was replaced by this system. A mixture of water and alcohol is circulated through these buildings and wells where the earth's natural 55-degree temperature cools or warms the liquid and a system of heat pumps will bring the buildings to a more comfortable temperature. The geothermal process is about 400% more efficient than burning fuel oil and propane to heat or cool our buildings, because we are mainly moving heat from one place to another.
Local Sourcing of Products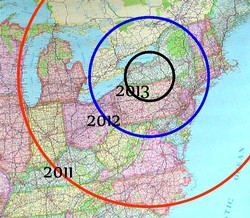 In 2011, we began investigating the origin of the hundreds of food and beverage items sold in our Wine Shop. We were able to determine the source of 86% of the items. The average distance to our winery was 614 miles.
Since then, we have been replacing many items with delicious regionally-produced foods and beverages that not only reduce our environmental footprint but also help support the "home team". In 2012, the food & beverage section of our Wine Shop was re-named the "Locavore Room", in recognition of the bounty of local foods and beverages from the Finger Lakes and western New York. By 2013 we were able to reduce the average Distance-from-Source (DfS) to just 122 miles, with 99.9% of items represented.
Future Projects
Over the next three years, we will be expanding our environmental stewardship initiatives:
Extend DfS reduction efforts to our wines and over 500 other Wine Shop items. The greatest challenge in the case of wines is to procure bottles produced in glass factories closer to home.
Meet and surpass our 50% Carbon Footprint reduction goal for energy consumption.
Filed: 2014-04-16