Holiday Bundle #1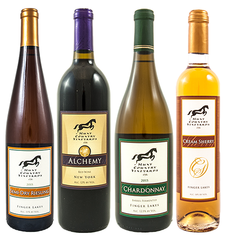 Semi-Dry Riesling: This semi-dry version of our classic Finger Lakes Riesling is soft and fresh, with just a touch of sweetness. It is an amazingly versatile wine that pairs beautifully with almost any food on your table. However, might we suggest you try it with glazed pork chops, curried squash soup or your next Thanksgiving turkey?
Alchemy: This phenomenal dry red wine is the closest thing we've found to a universal cure and we hope you enjoy it as much as we do! With black cherry notes, firm oak flavors and hints of pepper, Alchemy creates culinary magic with hearty meat dishes, rich cheeses and tomato-based Italian cuisine.
Chardonnay: A personal favorite of owner Joyce Hunt, our 100% Finger Lakes Chardonnay exhibits delicate fruit flavors and soft vanilla and buttery notes imparted by eight months of oak aging and malolactic fermentation. Enjoy it chilled with cheeses, shellfish, chicken, and pasta with pesto, butter- or cream-based sauces.
Cream Sherry: Our Cream Sherry is a delicious blended wine filled with the flavors of raisins, nuts and caramel. But it's not just a dessert wine; it's an excellent partner for your meal too. Sure, you'll enjoy our Cream Sherry with pumpkin pie and crème brûlée, but you'll also love it with corn chowder or curried squash soup.
Customers in Maine and Montana: Sadly, due to rules and regulations beyond our control, this particular bundle of wines cannot be sent to Louisiana, Maine or Montana. Might we suggest Holiday Bundle #2? It's just as wonderful and free of any restrictions.