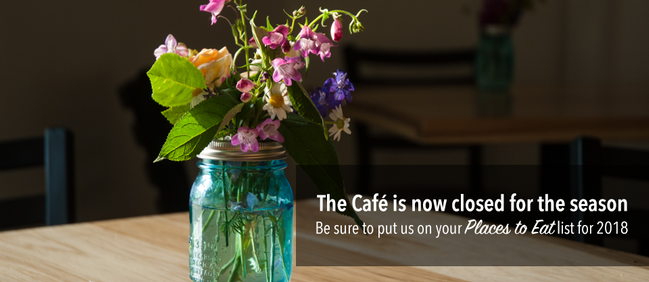 The Café is now closed for the season.
The Café menu is crafted from ingredients that are seasonal, organically grown when possible, and as local as we can get. We even grow many of the herbs, vegetables and edible flowers organically right here on the farm.
All Hunt Country wines are available by the glass and by the bottle.
The Café will be closed on specific days to accommodate Keuka Lake Wine Trail events at the winery:
* June 10 and 11: Fire It Up! Weekend I
* June 24 and 25: Fire It Up! Weekend II
* September 16 and 17: Harvest Celebration
Our Café was once the original tasting room at Hunt Country. The small, single-room white building used to be a wing of the farmhouse in the early 1800s and was later turned into a work shed before being moved to it's current location. As the Café, this original building is still very much at the heart of the Hunt Country experience.