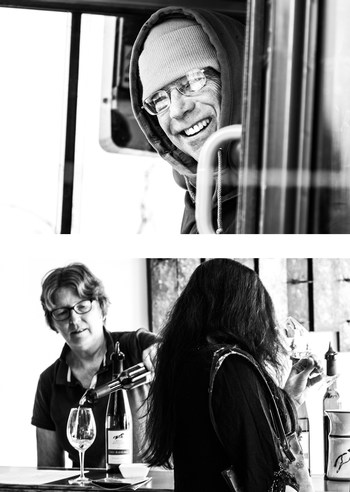 Art and Joyce Hunt
Co-Founders and Co-Owners
arthunt@huntwines.com
joycehunt@huntwines.com
When Art and Joyce took over the Hunt family farm in 1973, they had a lot to learn about farming.
They learned how to plant and grow grains and dry beans. They started a garden for themselves, with both vegetables and fruit. They learned to cut down trees for wood and how to handle all of the old farm tools laying around. Art became pretty skilled at restoring old buildings and old equipment.
Most importantly, Art and Joyce learned how to grow grapes. They put nearly 50 acres of grapes into the ground, eventually selling them to the biggest wine producer in the area: the Taylor/Great Western Wine Company. But when Coca Cola bought Taylor/Great Western in 1977 and moved all of its operations to California, local grape growers were decimated; the local market for grapes completely vanished.
So Art and Joyce learned yet another skill: winemaking. In 1981, they started their own small farm winery. For years, Art made weekly trips down to New York City to sell their wine. Joyce helped found and was the very first president of the Keuka Lake Wine Trail. Both of the Hunts were instrumental in rebuilding the market for Finger Lakes grapes and wines, one bottle at a time.
And soon the tiny one-room winery became Hunt Country Vineyards.
Art is still the go-to guy on the farm when something needs fixing. He has worked closely with Cornell University over the years, helping to pioneer important innovations and techniques for grape growing in the Northeast. This includes figuring our how to successfully field graft vines to rootstock in our cold climate. Art is also an active, 40-year member of the local Branchport Keuka Park Volunteer Fire Department.
Joyce is our sales maven, working both on and off the farm. She's an incredible advocate for the arts in our local community. Joyce is involved with the Arts Center of Yates County. She also started the Finger Lakes Chamber Music Festival to bring classical and modern chamber music to local venues in our region. Joyce is a champion of all things canine, organizing our annual Dog Walk to support the Humane Society of Yates County.
Jonathan Hunt
Jonathan spends his days out among the grapes. He is Art and Joyce's son. If Jonathan's not on a tractor, he's wrenching on the various pieces of equipment necessary for successfully running a vineyard. Previously in charge of our winemaking, Jonathan's vintner skills come not only from growing up with this winery but also from working at St. Francis Winery & Vineyards in Sonoma County, California and at Delegat's Wine Estate in Auckland, New Zealand. Always looking for a reason to stay as far away from a desk as possible, Jonathan also oversees the composting of organic waste from both our farm and winery; he has been actively working to improve overall soil health at the farm. Jonathan is a 1st Lieutenant with the local Branchport Keuka Park Volunteer Fire Department.
Suzanne Hunt
Director of Strategic Partnerships and Brand Evolution
suzannehunt@huntwines.com
Suzanne is leading the development of new partnerships, markets, and branding for the farm. She is Art and Joyce's youngest daughter. Her vision of where to go and how to get there is grounded firmly in our rich family history, our connection to the land, and our continuing innovation with renewable energy technologies and sustainable farming practices. She is president of HuntGreen LLC and draws on a decade worth of experience helping companies, governments, farms and communities - across the country and around the world - transition to renewable energy, sustainable transport and sustainable agricultural practices. Suzanne spearheaded the installation of large-scale solar systems at Hunt Country and a number of other Finger Lakes wineries (which received the 2015 National Solar Champion Award) and is currently helping local efforts to install community solar projects. She serves on the Sustainability Advisory Panel for Air New Zealand, is an Associate at the International Institute for Sustainability Analysis and Strategy (IINAS) in Germany, is a member of Environmental Entrepreneurs (E2) and is a member of the New York State Governor's Clean Energy in Agriculture Task Force.
Craig Hosbach
Winemaker
craig@huntwines.com
Craig got his start over a decade ago when he had that light-from-above realization that wine - not computer information systems - was his true passion in this world. He has worked as the head winemaker for Four Sisters Winery, Thousand Islands Winery and Tug Hill Vineyards. Craig has won over 200 awards for his wine. He is Vice President of the Northern New York Grape Growers Association. He created an educational winemaking facility for students from Jefferson Community College's Winery Marketing and Management program. Craig is also a diehard Mets fan.
Allie Sutherland
Tasting Room Manager
allie@huntwines.com
Allie is the curator of customer experience here at Hunt Country Vineyards. She has over a decade of experience traveling around the world and working on a myriad of hospitality projects. She was part of the team that opened the Chiltern firehouse hotel and restaurant in London. She helped organize and establish the Summer Farm-to-Table pop-up restaurants in Rhinebeck and Southampton. She has managed private estates in the Bahamas, New York City, Long Island and Rhinebeck. She also loves scuba diving and sailing. So what the heck brought her back to Keuka Lake? The answer is simple: She loves this place and is absolutely grateful to call it home.
Andy Marshall
Operations Manager
andy@huntwines.com
Andy joined the Hunt Country team straight out of college in 2006 and has been with us ever since. Andy oversees all the behind-the-scenes tasks that make it possible to operate a successful winery. His ability to keep things running smoothly comes from a diverse background of work experience - everything from being a farm hand and helping at a saw mill to being an assistant webmaster and a business development consultant to the Council on Alcoholism of Finger Lakes. If Andy doesn't answer the phone during the lunch hour, it's because he's reading a book about the physics of radiation. (Yes, for fun.)
Spencer Jenkins
Jack-of-All-Trade (Master of them, too)
It's hard to put Spencer in a box, but here's a general description of what he does at Hunt Country: Fixing anything that breaks, making sure other things don't break, caring for the grapes, trellis work, pest and disease management, auguring and post repair, bottling wine, building various items for decor and ambiance, and general "improvement of efficiency". He is a master boat builder who, after selling his business crafting wooden boats, retired to Keuka Lake and thought it would be fun to work at our farm. Spencer makes sure everything is running smoothly for six months out of the year, and then makes us jealous for the other six months: He and his wife are full-time RVers who travel to the southern U.S. every winter after the harvest. They camp, sail, snorkel, kayak, mountain bike and basically live on warm, sunny beaches.
Tessa Olsen
Retail and Special Projects Manager
tessa@huntwines.com
Tessa is the person who fills our space with items and events of beauty. She approaches everything she does with the rare (and highly-prized) combination of artistic aesthetic and business sensibility. Tessa has run businesses of her own in fabric arts and as an event planner. She has also worked at Cuttyhunk Shellfish Farms in Cuttyhunk, MA, overseeing their large guest dinners. Which is why Tessa has been - and continues to be - essential to the success of our Café. If you don't see her around the farm, she's probably out on the waters of Keuka Lake or Buzzards Bay.
Matt Kelly
Director of Vibe (Communications, Media, and Marketing)
matt@huntwines.com
Officially the person in charge of media and communications for the farm, Matt is also a freelance writer and photographer whose work is focused on the intersection of food systems and ecosystems. He developed his retail and marketing chops working for REI and L.L. Bean, and gained extensive communications experience as director of outreach for the Rochester School for the Deaf. Matt is a firefighter with the local Branchport Keuka Park Volunteer Fire Department.
Caroline Boutard-Hunt
Caroline and Jonathan were married in 2007, and Caroline began working at the farm in 2008 after completing her M.S. in Entomology from Cornell University. She has worked in nearly every part of the business from festivals and the tasting room to the winery and vineyard - and even as assistant winemaker when the need arises. In addition to her work with Hunt Country Vineyards she has run Italy Hill Produce, a certified organic vegetable farm, located at the Hunt family farm since 2010. Caroline has been instrumental in Hunt Country Vineyards increasing its use of local foods at events in the Café and has worked with various partner farms to provide fantastic quality vegetables, grains, and meat for our menus. She serves on several boards and is a member of the Branchport Keuka Fire department.