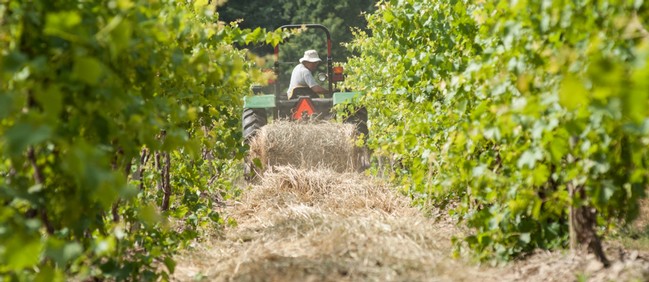 The soil is everything when it comes to growing grapes. Which is why we care for it so very much.
We amend our soil using compost and poultry manure only, no synthetic fertilizers. The compost comes from our own on-farm composting operation that is fed with grape pomace from our presses, leaves and yard waste from the Town of Jerusalem and residents around Keuka Lake, vegetable and other plant waste from the farm, and various livestock manures.
We roll out hay between the rows of vine to suppress weeds, hold moisture in the soil, and create improved habitat for the micro and macro fauna that is key to healthy soil.
The 24 acres of land immediately surrounding our winery and tasting room are certified organic. At the south end of the farm, we are transitioning a block of Vignoles, Cayuga, and Niagara grapes to organic production.