Hunt Country Chili on the Go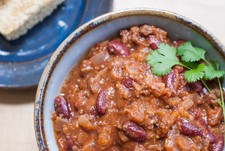 Measurements:
Imperial (US)
Ingredients
1 lb ground beef
1/4 lb Italian sausage, hot
1 cup onion, chopped
1 28 oz can of tomatoes
1/2 cup ketchup
1 tbsp chili powder
2 tsps brown sugar
1 1/2 tsps salt
1 tsp mustard, spicy
1/4 cup Hunt Country Classic Red or Hunter's Red
1 16 oz can of kidney beans
Directions
1. Brown the meat and onions in a heavy pan, stirring occasionally.
2. Stir in tomatoes, liquid from kidney beans and remaining ingredients. Simmer for about 25 minutes.
3. Add kidney beans and wine.
Serve with corn bread, salad and a glass of Classic Red or Hunters Red.