Friday Night Stir Fry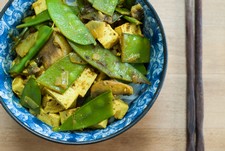 Measurements:
Imperial (US)
Ingredients
4 tbsps sesame oil
1 onion, minced
2 cups snow peas, cut up
1 lb tofu, cut into cubes
3 cups mushrooms, cut
2 tbsps Hunt Country Semi-Dry Riesling
1 tsp tumeric
1 tsp cumin, ground
2 tsps curry powder
1 tsp sea salt
a liberal dash of black pepper
Directions
1. In a large skillet sauté the onion in sesame oil until translucent.
2. Add snow peas and mushrooms. Sauté about 2 minute more.
3. Add the spices and sauté for 1 minute more.
4. Add the wine and tofu and stir over medium heat for 4 to 5 minutes.
Serve over rice or cellophane noodles. Serve with a glass of Semi-Dry Riesling, Dolce di Moscato or Sweet Gus.