Farmhouse Chicken Wings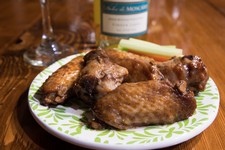 Measurements:
Imperial (US)
Ingredients
4 garlic cloves, minced
1/2 tsp ginger
4 lbs chicken wings
1/2 tsp salt
1/2 cup oil
1/4 tsp paprika
1 cup soy sauce
1/3 cup Hunt Country Foxy Lady White
Directions
1. Mix all ingredients together except the wings.
2. In large bowl, pour mixture over wings and let marinade for 12 hours.
3. Preheat oven to 400°F. Place wings on baking tray and bake for one hour, turning once during that time.
Let cool and then serve with a glass of Dolce di Moscato or Foxy Lady White.