Chef Paul's Roasted Vegetable Soup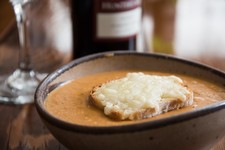 Measurements:
Imperial (US)
Ingredients
1 1/2 lbs Spanish onions, sliced into 1/2 inch thick slices
1 1/2 lbs carrots, peeled and cut into 1/2 inch pieces
1 1/2 lbs white turnips, peeled and sliced into 1/2 inch slices
2 leeks, whites only, sliced 1/2 thick
1/2 cup clarified butter
1 1/2 cups tomatoes, canned, peeled and seeded
2 cups potatoes, peeled and quartered
2 quarts chicken stock or water
1/4 cup parsley, fresh, chopped
1 tbsp rosemary, fresh, stemmed and chopped
1 tbsp thyme, stemmed
1 bay leaf
salt (to taste)
ground white pepper (to taste)
1 pint heavy cream
1 baguette
1/4 lb Gruyère cheese, shredded
Directions
1. Preheat oven to 400°F.
2. In a large bowl, coat the onions, carrots, turnip and leeks with the clarified butter. Place them on a large baking tray or shallow roasting pan. Do not overfill. Do not overlap the vegetables.
3. Put the vegetables into the oven at 400°F. Roast until they are golden brown and beginning to shrivel.
4. Pour chicken stock or water into the soup pot and bring to boil as vegetables are roasting. When vegetable are done roasting, add them to the pot. If some of the browned vegetables are stuck to the tray, loosen them by pouring a little bit of liquid in the pot onto the tray. Add these vegetables and liquid to the pot.
5. Add potatoes, tomatoes, chopped herbs, and bay leaf. Cook until the potatoes soften.
6. Remove the bay leaf and puree the soup with a food processor or immersion blender. Return the soup to the pot and heat. Add cream. Season to taste. The soup should be thickened from the potatoes.
7. Toast slices of baguette with Gruyère cheese on top. Gently place a slice on top of the soup in each bowl.
Serve with a green salad and a glass of Classic Red, Hunter's Red or Chardonnay.