Environmental Stewardship
at Hunt Country
As the sixth generation of Hunts on our land, we plan and manage our farming practices with a long view toward sustaining and improving the land for the future. When you visit, we would be happy to show you our latest sustainable agriculture (environmental) initiatives.
---

Go Geothermal!
(It's not Hydrofracking.)
This exciting new sustainability project at Hunt Country began with the drilling of eight 375-ft-deep wells in the area outside the main TR windows.
Our conventional A/C and heating in the tasting room, winery and warehouses was replaced by this system. A mixture of water and alcohol is circulated through these buildings and wells where the earth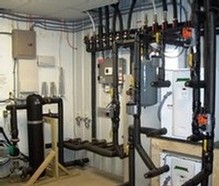 's natural 55-degree temperature cools or warms the liquid and a system of heat pumps will bring the buildings to a more comfortable temperature.
The geothermal process is about 400% more efficient than burning fuel oil and propane to heat or cool our buildings, because we are mainly moving heat from one place to another.
The project is being financed partly by grants, partly by loans.
---

Major Carbon Footprint Reductions!
A range of projects implemented since 2007 have substantially reduced Hunt Country's carbon footprint: moving the winery from our 1880s barn to an expanded building with high R-factor; moving wines into a newly insulated warehouse; replacement of lighting with the latest low-consumption technology; installation of a geothermal heating and cooling system. As a result, we have reduced our total energy costs by 30% and our carbon footprint by more than 40%.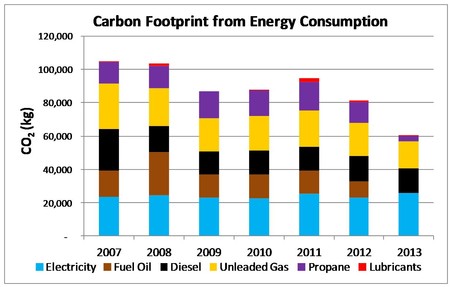 ---

The Locavore Room
In 2011 we began tracing the origin of a sampling of products we sell. Among the discoveries was a top-selling type of cracker, distributed out of New Jersey, that was actually produced in Hong Kong! We said "Stop!". Since then, we have been replacing those items with delicious regionally-produced foods and beverages that not only reduce our environmental footprint but also help support the "home team". In 2012 we named this section of our Wine Shop the "Locavore Room", to recognize the amazing bounty of local foods and beverages in the Finger Lakes.
| | 2011 | 2012 | 2013 |
| --- | --- | --- | --- |
| Number of distinct items sold | 418 | 421 | 442 |
| Items with source identified | 360 | 405 | 441 |
| % Items with source identified | 86.1% | 96.2% | 99.8% |
| Avg DfS for source-identified items (miles) | 614.3 | 286.4 | 121.8 |
| Reduction from previous year | | -53% | -57% |
The food & beverage items (other than wine) that we offered for sale at Hunt Country in 2013 had an average Distance-from-Source (DfS) of just 122 miles. We are working to reduce that further, and have begun to measure and reduce the DfS of our wines. The greatest challenge in the case of wines is to source bottles that are manufactured closer to home.



 

Top of Page

 



---

Composting at Hunt Country Vineyards
Since the inception of Hunt Country Vineyards, Art and Joyce Hunt have spread the leftover grape pomace back in the vineyards and on our crops to improve soil health. Grape pomace (photo at right) consists of the stems, skins and seeds left over from pressing the grapes.
In the fall of 2005 the Hunt family began mixing the pomace with animal manure and then composting the mix before applying it to the vineyard. Jonathan Hunt, a graduate of Cornell University's School of Agriculture and son of owners Art and Joyce Hunt, is coordinating the project. Composting the combined grape pomace and manure is advantageous because it adds vital minerals and nutrients to the soil that help produce outstanding grapes for winemaking.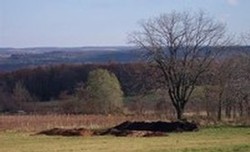 The increased nitrogen due to the manure may also help us reduce the use of other fertilizers.
Our compost piles can be seen in the photo at left. The pile from last year's harvest, at the rear under the large tree, is nearly finished decomposing and darker in color, while this year's pile in front is just beginning its cycle. During the composting process millions of microorganisms break down the leftover plant material and release large quantities of heat.
Adding compost and other organic matter improves soil health and structure, ensuring that the land upon which Art and Joyce have built their vineyard will continue to improve and produce beautiful grapes.



 

Top of Page

 
---

Opposition to Hydrofracking in the Finger Lakes
Hunt Country Vineyards has joined others in the Finger Lakes to actively oppose current proposals to extract natural gas in our area by "hydrofracking".
Conventional drilling for natural gas in the Finger Lakes has been going on for generations. Most agree that this type of drilling is not too disruptive to the environment and that the risks to landowners and their neighbors is acceptable. The gas companies have made good profits over the years this way.
Recently, the gas companies want to use a controversial technique known as high-volume slick-water hydraulic fracturing or "hydrofracking" in the thin shallow Marcellus shale layer located under the Finger Lakes. This process involves horizontally drilling multiple wells in the shale layer from a main wellhead and injecting millions of gallons of water mixed with sand and chemicals, many of them toxic, into each well. Explosives and extremely high injection pressure pulverize the shale, which releases the gas. The process is risky, resulting in unintended consequences such as blowouts, spills, fires, and poisoning of streams, wells, aquifers, soil and the air. The intense nature of the saturation drilling turns each area into a huge industrial site.
The Finger Lakes area is known for its pristine beauty, clean lakes and air, and healthy agricultural environment. Consequently millions of visitors flock to the wineries, lakes, resorts and other attractions annually. With huge truckloads of water, sand, chemicals and equipment constantly on the move – thousands over the course of a year -- the roads and the environment will be degraded and tourism will suffer. More importantly, even one accident can permanently destroy the quality of the groundwater and lakes or the viability of the soil to produce healthy food, including grapes and wine. Other large areas where hydrofracking has been used are now becoming unsuitable for agriculture and largely unsuitable for people to live.
We have informed the New York State government that we feel it is unwise and unacceptable to allow hydrofracking in the Finger Lakes at this time.



 

Top of Page

 
---