Hunt Country Signature Events
June 2014
6th Annual Hunt Country Dog Walk
10:00 AM to 3:00 PM
Sat, Jun 7, 2014
Venue:
Hunt Country Vineyards, 4021 Italy Hill Road, Branchport, NY 14418
Contact:
Andy Marshall 800.946.3289,
Andy@HuntWines.com
A benefit for the Humane Society of Yates County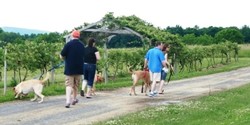 Official flyer (feel free to print & distribute!)
Back for the sixth year - the Annual Hunt Country Dog Walk! We're looking forward to seeing friends from last year and to meeting new and amazing dogs (and their people!) this year.
Registration for the event is $10/dog and entitles the dog (and their human!) to unlimited walking time on our beautiful trails through the vineyards and woods and a complimentary standard wine tasting or grape juice for those under 21. 100% of the registration fees go directly to the Shelter of Hope; as well as a portion of our sales for the day. Additionally, we will once again be selling a commemorative t-shirt and other vendors will be present selling their dog-related goodies.
Participating Vendors for 2014.:
Registration is only $10 per dog and you may download and mail in the form (checks payable to Humae Society of Yates County) here: Registration Form
We are having an open call for vendors...please contact Andy Marshall at 315.595.2812 to participate as a vendor!
August 2014
Twilight Picnic in the Vineyards
6:30 PM to 9:00 PM
Sat, Aug 9, 2014
Venue:
Hunt Country Vineyards, 4021 Italy Hill Rd, Branchport, NY 14418
Contact:
Andy Marshall 800.946.3289,
Andy@HuntWines.com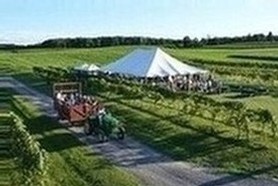 Join the Hunt family for a picnic to remember among our beautiful vineyards at twilight. Enjoy the amazing bounty of Finger Lakes-produced foods, prepared by Jane Russell of Around the Corner Catering, including great locally-raised meats and fresh organic veggies from Jonathan & Caroline Boutard Hunt's Italy Hill Produce located right here on our farm.
MENU T.B.A.
Tickets include a glass of Hunt Country wine of your choice (adults) or grape juice (< 21). Relax and serve yourself food when you wish. Additional wine will be available at a cash bar by-the-bottle and by-the-glass.
The Stick Mob, a 5-piece Washington DC-based acoustic band -- fiddle, guitars, mandolin, stand up bass and everyone sings, including vocalist Suzanne Hunt, daughter of owners Art & Joyce Hunt -- will provide great live music.
During your visit, tour our vineyards in a haywagon. Hunt Country's Tasting Room and Wine Shop will be open throughout the event.
A tent will be available for inclement weather. Free parking. Seats are limited for this event, so purchase your tickets early at Early Bird prices.
| | Early-Bird |
| --- | --- |
| Adults (21+) | $40 |
| Children (7-20) | $25 |
| Kids 6 and under | no charge |
October 2014
25th Anniversary Hunt Country Harvest Festival
Saturday 10:00am-6:00pm, Sunday 11:00am-6:00pm
Sat, Oct 4, 2014 - Sun, Oct 5, 2014
Venue:
Hunt Country Vineyards, 4021 Italy Hill Rd, Branchport, NY 14418 (Keuka Lake)
Contact:
Andy Marshall 1.800.WINE.BUY (946.3289),
Andy@HuntWines.com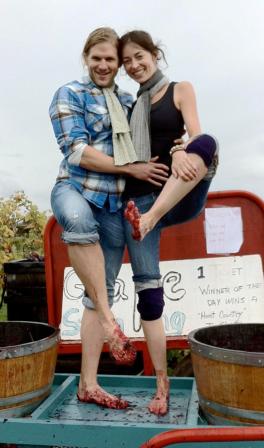 Free Admission - No Reservations Necessary
Families Welcome - Free Parking
The perfect autumn weekend getaway! Great food, live music, free wine tasting, free winery tours, grape-stomping, special cellar tasting, horse-drawn vineyard rides, talented artists exhibiting their works. Relax at a picnic table or under the big tent.
Delicious food for sale, prepared by the Culinary Arts students of Penn College School of Hospitality
Grape stomping
Horse-drawn wagon vineyard rides
Free Standard Wine Tasting
Free guided tours of our winery
Intimate Cellar Tasting Workshops with our Director of Winemaking, Jonathan Hunt
Cooking seminars by Chef Paul Mach (co-host of PBS-TV's "You're the Chef")
Bargain wines for sale (very limited supply, first come first served)
Artists demonstrating their skills and vendors their handcrafted wares
Great live music in the afternoon
Rain or Shine!