Red Wines
When Joyce and I first started growing wine grapes in the 1970s, many viticultural experts stated that the Finger Lakes would never produce good reds. Well, it was a long process, with a good deal of help from Cornell University scientists, learning how to grow reds in the cool Finger Lakes climate. Our top 3 selling wines now are all reds!
-- Art Hunt


This wine is temporarily sold out. We expect to have it back in stock by Sept. 30.

Summer Sale - Save $1.00 per bottle!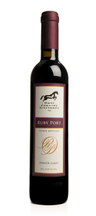 Just released!