Vegan Wines
The Hunt Country wines available for sale below are guaranteed to be vegan, crafted with 100% animal-friendly practices. None of these wines contains or has been produced using animal-derived agents. Vegans and vegetarians can enjoy them with complete confidence.
Please feel free to contact our Marketing Assistant, Andy Marshall (a vegan), with any questions or comments. He would be happy to hear from you. We also maintain a chart of all our wines, with further details for vegans.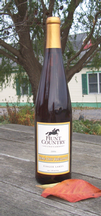 We're sorry. This wine is sold out.