Twilight Picnic in the Vineyards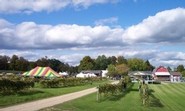 Saturday, August 10, 2013 at 6:30pm
Join the Hunt family for a picnic to remember among our beautiful vineyards at twilight. Enjoy the amazing bounty of Finger Lakes-produced foods, including great locally-raised meats and fresh organic veggies from Italy Hill Produce located right here on our farm. And take a haywagon ride through the vineyards.
M E N U T. B. A.
A tent will be available for inclement weather. Free parking. Free admission for children 6 and under.
Seats are limited for this event, so purchase your tickets now (below) at Early Bird prices. (Last year's event was SOLD OUT well in advance.) Stay tuned for the announcement of the menu!